It's that time of year again when mainstream car manufacturers from around the world, as well as those from emerging brands, showcase the very latest developments in the automotive industry and Hyundai are no exception, unveiling their new EV concept; 45, at the IAA earlier this month.
The Korean company's latest concept model highlights the brand's future design direction for electric vehicles and pays homage to one of its most iconic vehicles; the Pony Coupe Concept. In respect to its 45 year old ancestor, the aptly named 45, reimagines the in-car experience; focusing on electrification, autonomous technologies and intelligent design, for the self-driving vehicles of tomorrow.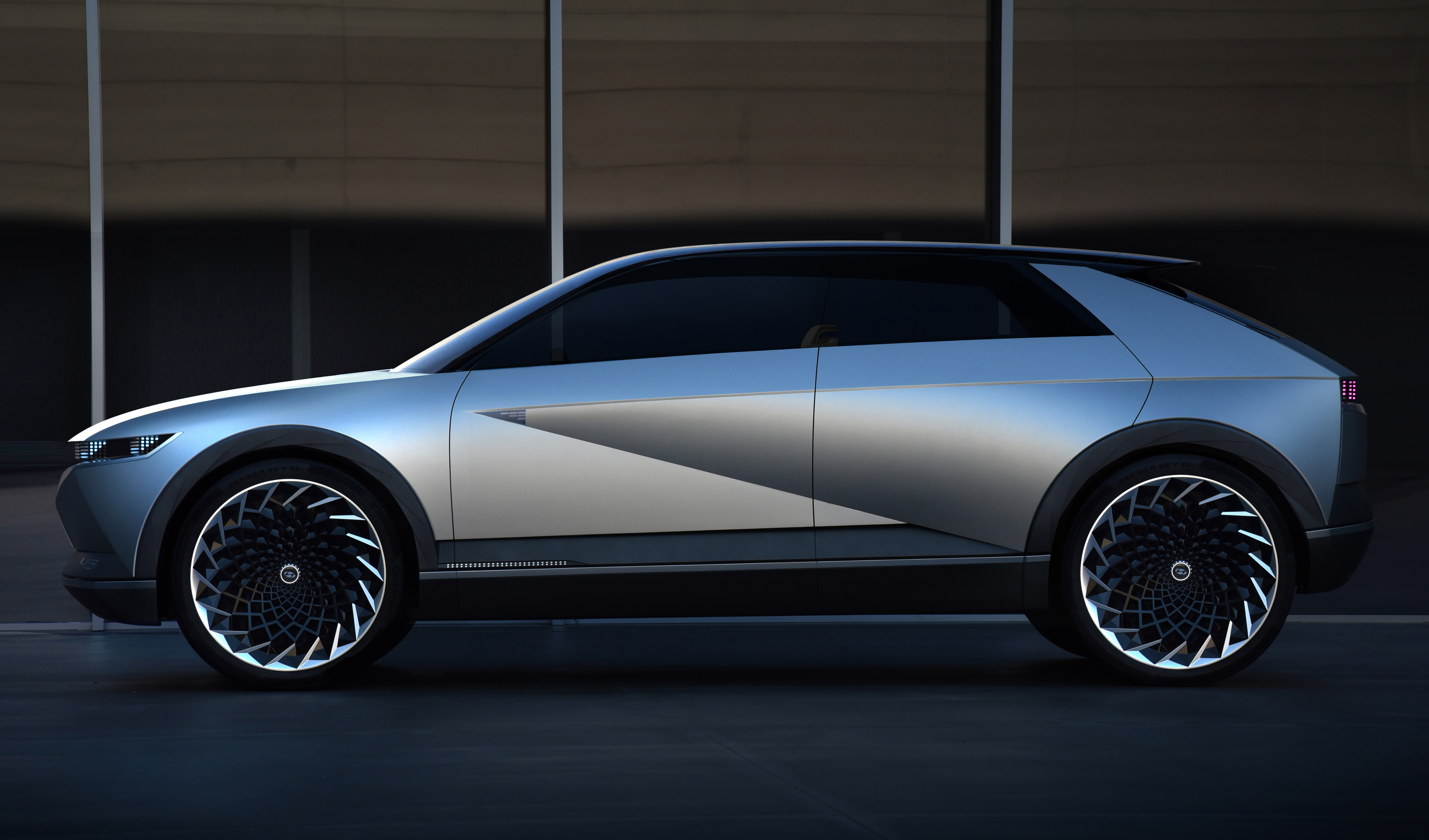 The dramatic exterior styling of 45 not only excites the imagination but foreshadows the company's design direction for future EV models. With 45-degree angles at the front and rear, forming a diamond-shaped silhouette, strong horizontal design lines, wide wheel-arches and a Z-shaped flourish along its flanks, certainly makes 45 a striking-looking model. Celebrating the clean lines and minimalistic structure of the original coupe concept is all part of Hyundai's 'Sensuous Sportiness' design language, aiming to produce a sleek and instantly recognisable set of design details, characterising future Hyundais.
At present, Hyundai has yet to provide any information regarding the battery type or what kind of electric motor they envisage for 45 but, as with many electric cars, these are positioned under the passenger compartment floor in what Hyundai has dubbed its 'skateboard floor', allowing for a more spacious interior.
With a very futuristic interior and indications to a possibly autonomous future, 45 is equipped with a large display screen that spans across the dash, that Hyundai claims can be controlled through "projection beam interface" and "replaces a single central touchscreen with a series of displays and functions integrated into the dashboard itself", allowing for front seat passengers to interact with the infotainment system.
With a combination of wood, leather and fabric upholstery, the inside of the concept embraces Hyundai's 'Style Set Free' approach, taking the space beyond driving and creating a unique living space, capable of accommodating a range of passenger lifestyle demands, which is further emphasised by the front seats being able to swivel and face the rear creating a more cosy atmosphere for all passengers.
As expected with a progressive electric vehicle, new technological developments are visible in 45's design, such as the LED lightbar on the door sill that shows the state of charge before the driver even steps into the vehicle. Hyundai further emphasise this technological advancement with cameras replacing traditional wing mirrors, overcoming visibility challenges such as dirt gathering on the mirror and reducing visibility. 45 cleverly combats this with camera lenses that continually rotate past a brush to ensure perfect visibility at all times.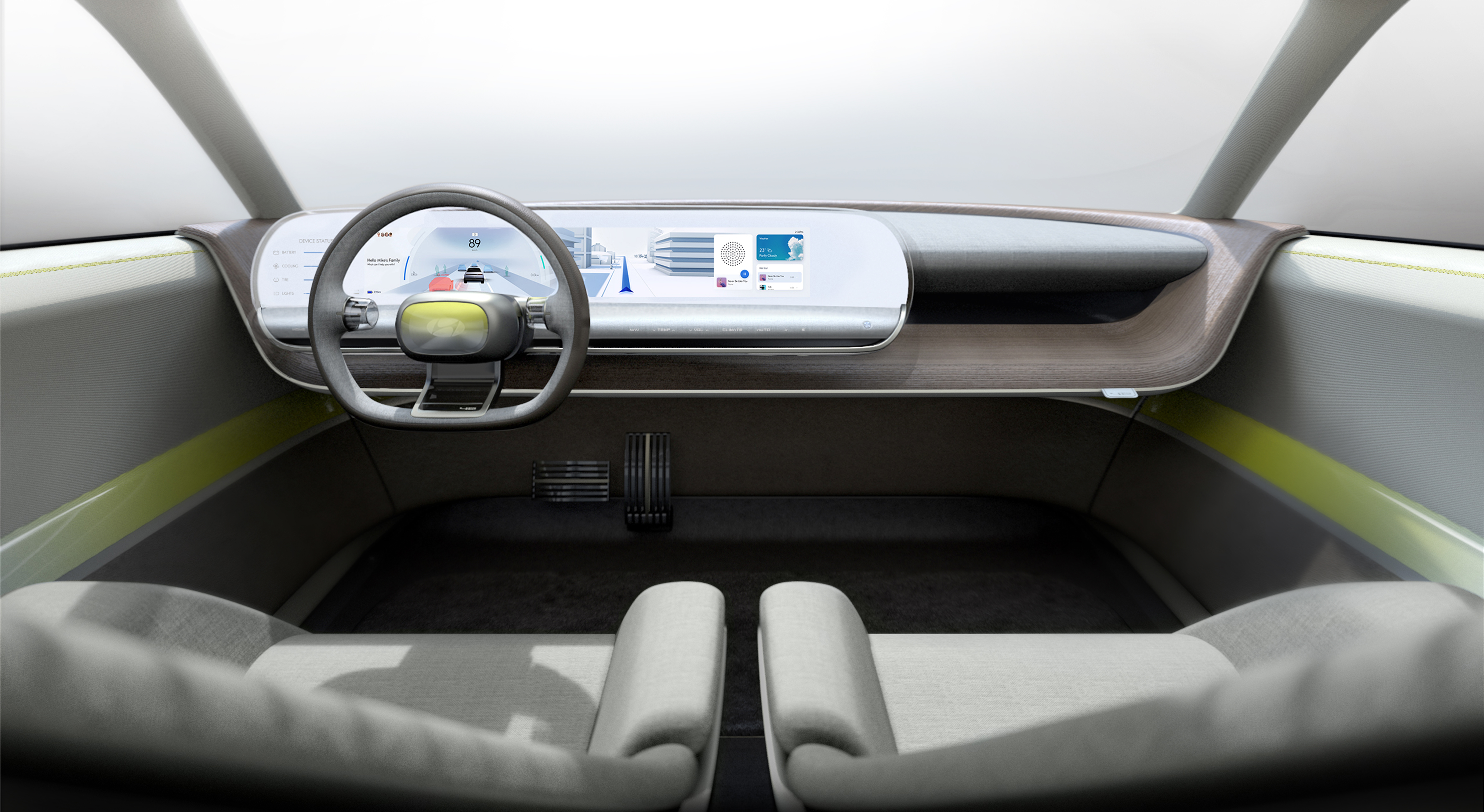 While 45 remains a design study and is unlikely to ever see production, Hyundai's concept model is certainly an interesting showcase, with innovative features and a striking design, it's sure to pave the way for future EV models to come!
Will you be buying an electric car? Let us know your thoughts on our social media channels!
Interested in buying a used electric vehicle? click here
Other CarCliq articles that may interest you:
Is 2019 the Year to Buy an Electric Car?
Switching to Electric Cars with No Compromise?
Hyundai is Development the World's First Multi-Collison Airbag System
For more CarCliq Reviews click here