With Hyundai venturing into the world of hot hatchbacks for the first time with the i30 N they seem to have hit the nail on the head!
Utilising the N Performance sub-brand as known from their World Rally Championship team there are vast differences between this and the normal i30 being available in two different variants; the base i30 N and the i30 N Performance.
The standard Hyundai i30 N uses a 2.0-litre turbocharged four-cylinder petrol to produce 247bhp mated to a six-speed manual gearbox using a rev-matching function to blip the throttle on downshifts. It gets five doors, four-mode adaptive dampers, an open differential and 18-inch wheels. While the more anticipated i30 N with the Performance Package coming in at £3000 more sees power boosted to 271bhp, a switchable active exhaust, an electronically-controlled limited slip differential, bigger brakes and 19-inch wheels added.
For comparison, the i30 N's closest rival, the VW Golf GTI, puts out 227bhp in normal form and 242bhp with the Performance Pack.
The interior of the car is much like the standard Hyundai i30 with only a little bit of a "performance makeover". The 8" touchscreen infotainment system has a decent display resolution, clarity and functionality with the factory navigation being clear and easy to follow. As well as smartphone connectivity there's also a wireless phone charging pad which is unusual but useful addition and also a voice recognition system for controlling some functions. As well as this there's also some optional extras that can be spec'd onto the standard i30 N that you get with the Performance Package like the sports seats. Some minor drawbacks of the interior include the main use of plastics within the interior that don't give a premium feel and that the touchscreen can be slow to respond on occasion; but of course there are additional buttons on the steering wheel for all the main driver actions.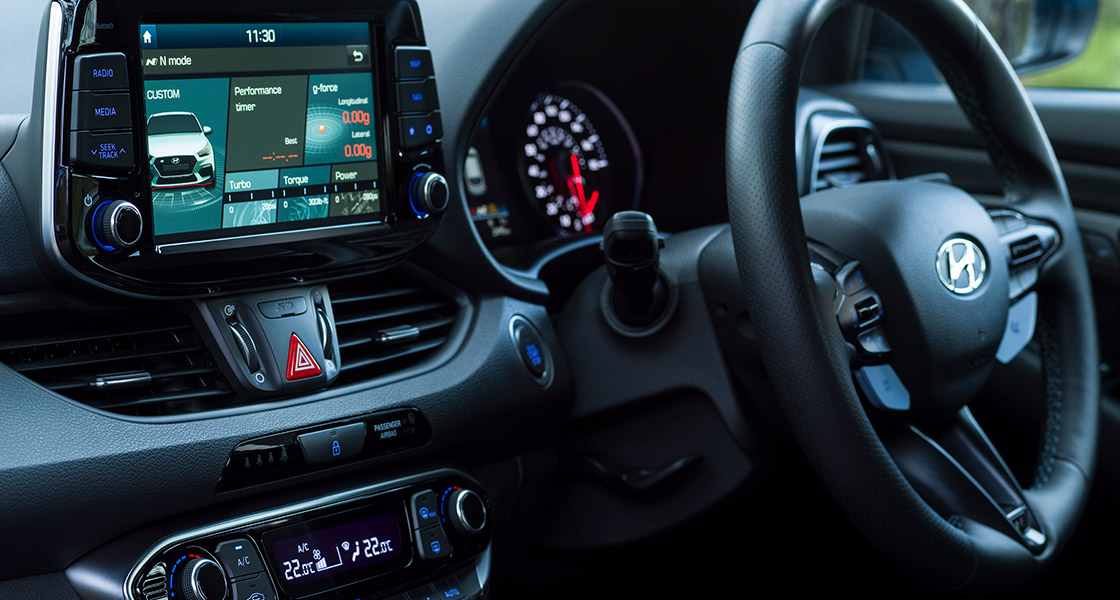 Once set up, the Hyundai i30 feels really alert and gives plenty of feedback, both through the precise steering and the involving chassis. It allows you to build confidence with it delivering huge levels of front-end grip and the well-judged suspension to keep body roll in check while not being fazed by large bumps. With a 0-62mph time of 6.4 seconds for the base car, a time of 6.1 seconds for the Performance model and with both having the same quoted top speed of 155mph it might not be as fast as the best four-wheel drive hot hatches but it's just as much fun as many of them! It also sounds good for a four-cylinder, particularly on the Performance variant with its active exhaust firing out pops and crackles when you lift off.
Hyundai has quoted 40.4mpg combined for the standard version, and 39.8mpg for the Performance model which is slightly lower than some rivals. Models without the Performance Pack also don't get their power down as smoothly out of a corner, but in normal everyday driving you'd be hard pushed to notice the difference.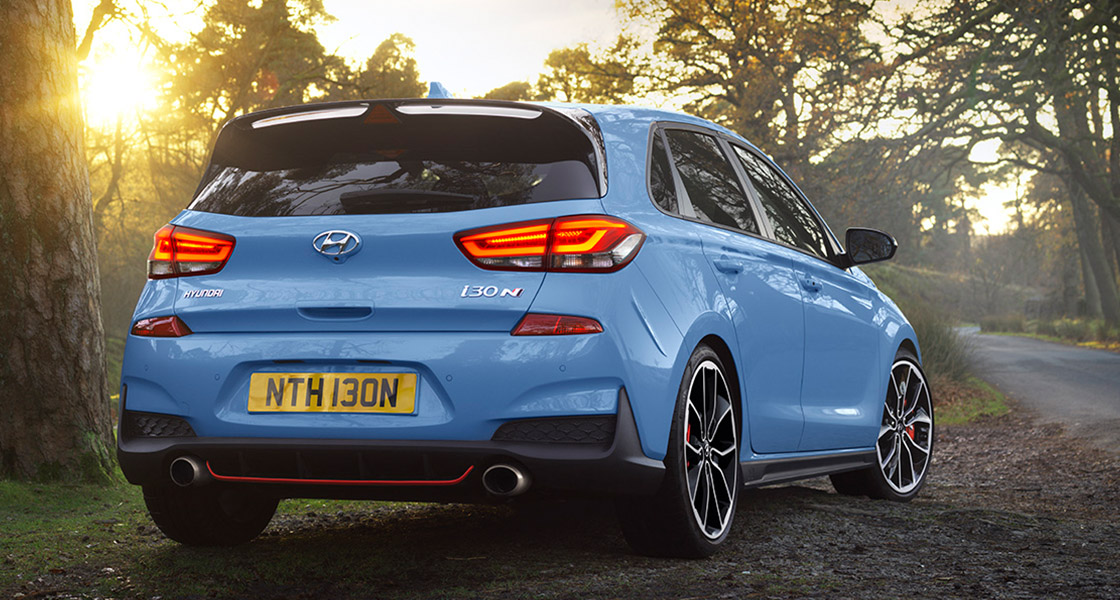 Pros 'n' Cons
Steering √
Practicality √
Performance √
5 Year Warranty √
Interior Features X
Fast Facts
Max speed: 155 mph
0-62 mph: 6.4 or 6.1 (Performance Package) seconds
Combined mpg: 40.9 or 40.4 (Performance Package)
Engine layout: 2.0L T-GDi Inline-4
Max. power (PS): 250 or 275 (Performance Package)
CO2: 176 or 178 (Performance Package) g/km
Price: £25,110 or £28,610 (Performance Package)
For more CarCliq News, click here.
Interested in buying a used Hyundai i30? Click here.