The Lexus UX is the smallest SUV to come from the premium brand, sitting below the larger RX and NX as Lexus' family SUV and is clearly cut from the same cloth in terms of style and it's striking looks. The UX is only offered as a hybrid but with premium compact SUVs and hybrid power becoming increasingly more in demand, a hybrid, premium compact SUV really ought to be a sales sensation. The UX is likely to entice buyers away from traditional petrol and diesel rivals, such as the Audi Q3, BMW X1, Jaguar E-Pace and Mercedes-Benz GLA while confronting the growing army of hybrid SUVs that include the Kia Niro and Mini Countryman SE.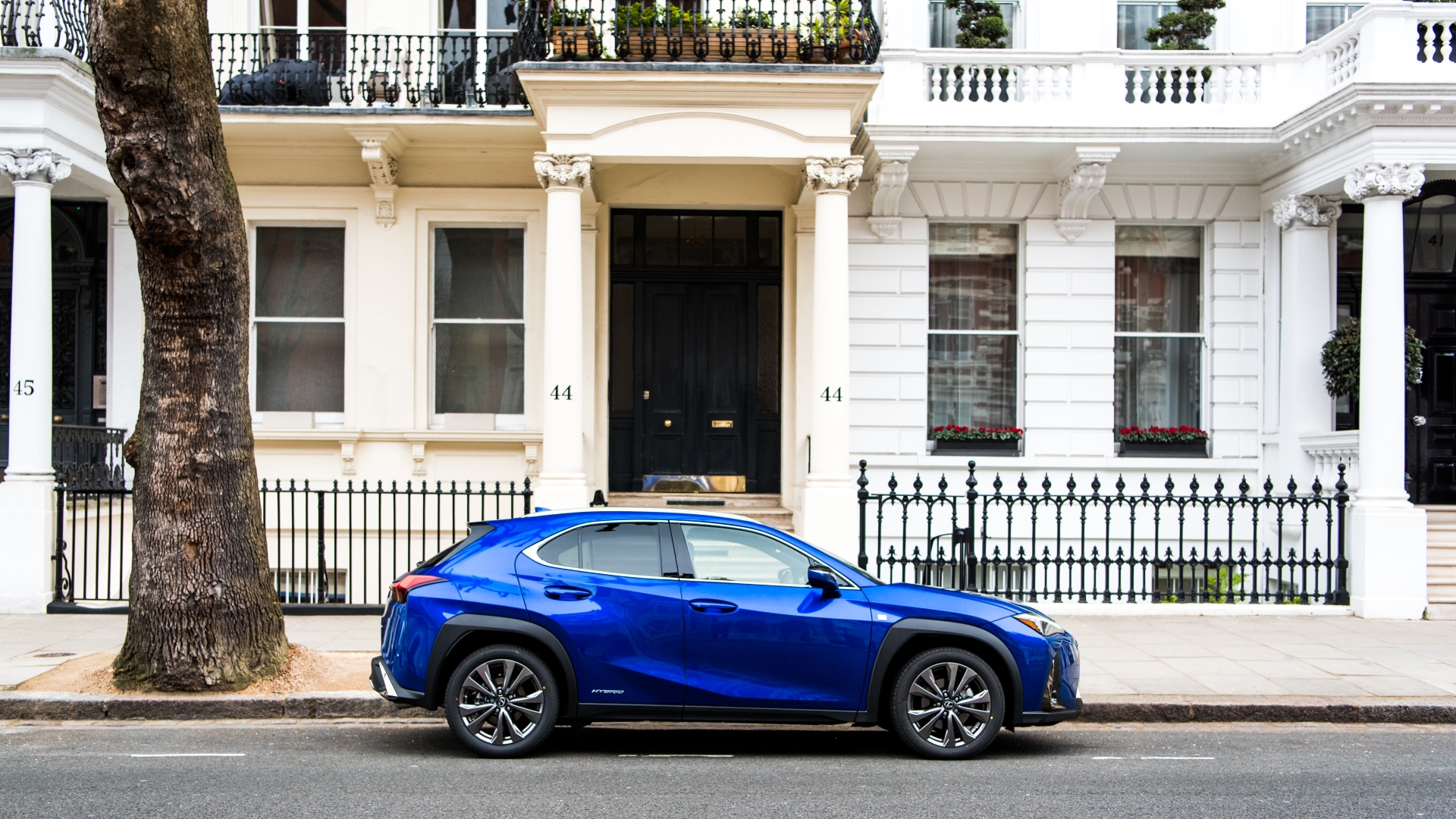 There's only one powertrain available in the UK, a 2.0-litre petrol engine and electric motor, producing a combined power output of 182bhp. The petrol-electric hybrid system automatically produces the most efficient mix of petrol and electric power and delivers punchy acceleration, powering the UX from 0-62mph in 8.5 seconds. Lexus describe the UX as a self-charging hybrid, so in stop-start traffic with gentle acceleration, it will go for extended periods using just the electric motor, making it a very quiet companion for the daily commute. However, it's not a plug-in hybrid, so the UX won't be able to make long journeys using just its battery power alone, but for those looking to go completely electric then there's always the new electric Lexus UX to choose from. The UX is available with either front-wheel drive or 'E-Four' all-wheel drive, with the E-Four system distributing power between the front and rear axles for more stable driving, maximising traction on poor roads and in adverse weather conditions.
On the road, the UX performs well around town – something you'd expect given that it stands for 'Urban Crossover' and its small size and tight turning circle make it great for navigating city streets. While the UX isn't particularly quick in EV mode, it's fast enough for making your way across town, but out on the open road, when the petrol engine cuts in, there's plenty of oomph, making the UX a good match for faster rivals such as the Volvo XC40 D4. It's very quiet running in EV mode but even with the petrol engine running, it's smoother and quieter than most rivals but you will notice some engine whine as the revs soar – a characteristic that's often associated with hybrid powertrains and CVT transmissions, but once at speed things quieten down. On the motorway, the UX is reasonably comfortable, it tends to fidget somewhat over rippled surfaces, but really struggles around town when it comes to absorbing bumps and sharper-edged potholes on the road. While it's nimble on twisty B-roads, the UX isn't particularly inspiring to drive quickly - it doesn't strike you as being an athletically enthusiastic sporty SUV unlike its BMW X2 rival that's a much more agile and rewarding companion on a country road although there are also cheaper alternatives that are just as nimble, such as the Seat Ateca.
Step inside and the UX retains that typical high quality interior and design that's associated with Lexus with its stylish and distinctive look. It's available in three trim levels, the entry-level model is simply the UX, followed by F Sport and top-spec Takumi. There are also 5 additional option packs available; premium pack, tech & safety pack, premium plus pack, premium pack pro and takumi pack, taking luxury specification to an even higher level. Sat nav, dual-zone air-conditioning and 17inch alloy wheels, along with Android Auto and Apple CarPlay smartphone connectivity all come as standard on the UX line. Upgrading to the F Sport – as the name suggests – adds sporty styling extras to give the UX a more muscular appearance that include 18inch alloy wheels, heated sports seats and steering wheel, plus tinted rear windows. As with other models that offer a digitally synthesised engine noise to increase aural stimulation, the F-Sport is also available with Sonic Interaction Design (SID) that allows you to tailor the engine sound when Sport S+ mode is activated. Meanwhile, the top of the range Takumi version of the UX features leather upholstery, ventilated seats, a 10inch multimedia display, 360degree camera, driver's head-up display, sunroof, blind-spot monitor and rear cross-traffic alert. All UX trims come as standard with the very latest Lexus Safety System + that includes a pre-collision system with pedestrian detection, dynamic radar cruise control, road sign assist and lane tracing assist. Automatic high beam is also available along with the optional adaptive high-beam but that's only limited to certain trims and packs.
Getting comfortable in the Lexus UX shouldn't be a problem, there's lots of high quality material throughout the cabin - even if there are different materials and textures used. In terms of space, the UX has a coupe-like feel to it rather than a high-riding SUV; you also sit quite low down - barely any higher than you would in a hatchback so anyone looking for that elevated driving position then the UX won't fit the bill however, it's a cosy and very pleasant place to be. Drivers and front-seat passengers will have plenty of leg and head room but the rear isn't especially roomy. Tall passengers will struggle for both head and legroom, while seating three adults in the back will be quite a squeeze and rather uncomfortable. Even getting in and out of the back seat will prove to be a bit of a challenge due to the rather narrow door aperture, however if more space is required then there's always the Lexus NX that sits above the UX in Lexus's SUV hierarchy. What really lets the UX down is boot space, it's small for the class with just 320litres available, 150litres less than what the BMW X2 offers. Meanwhile the extra mechanical hardware in the four-wheel drive version of the UX reduces boot space even further to 283litres – that's smaller than the Ford Fiesta's boot. Practicality is also affected due to the high loading lip, making it difficult to manoeuvre bulky items in and out of the boot.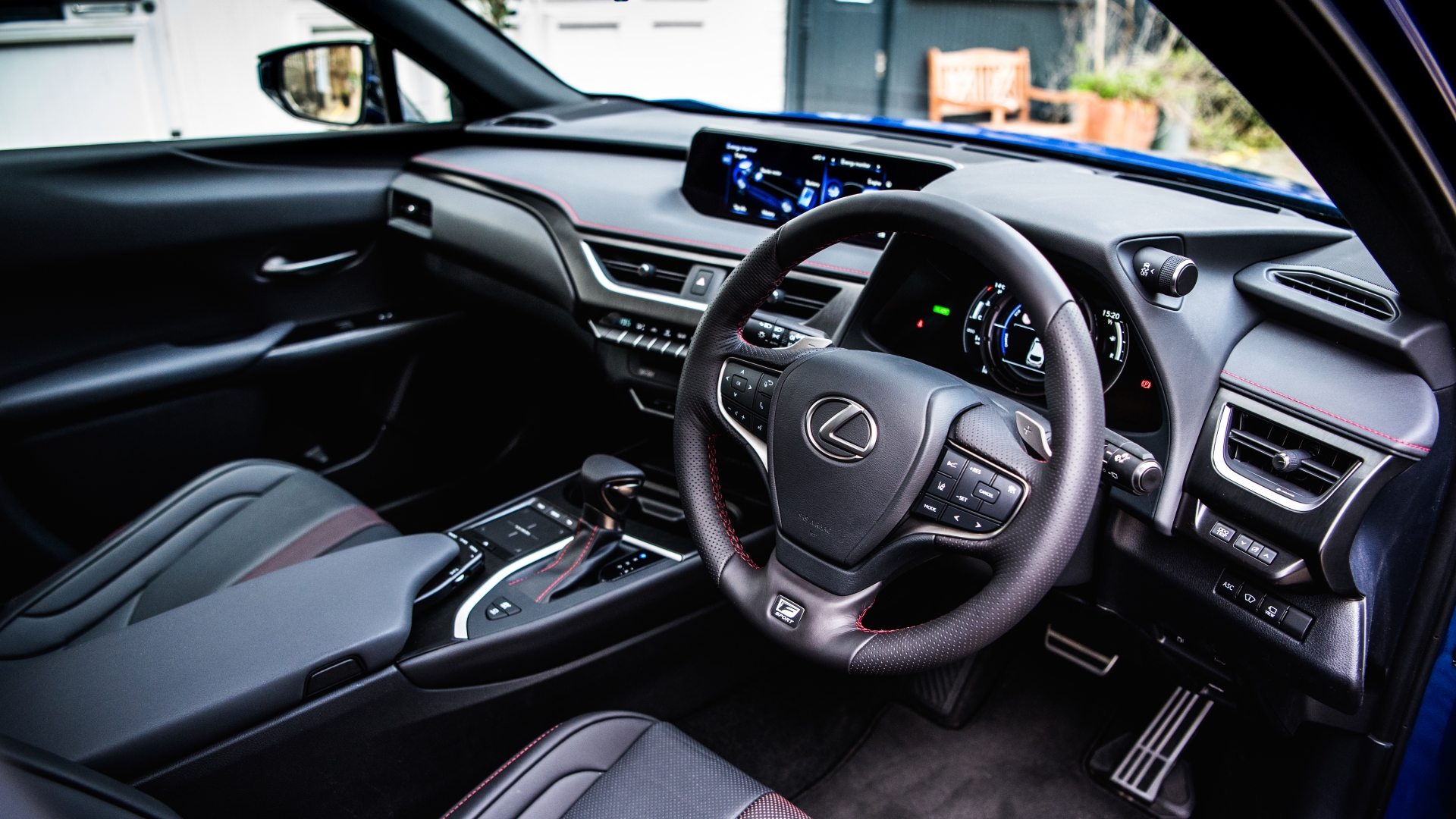 Should you buy one? The Lexus UX may not be as inspiring to drive as the BMW X2 but for urban-focused drivers seeking alternatives to conventionally powered cars, then the UX is a compelling choice. However, it isn't the most family-friendly SUV when it comes to passenger and boot space, especially when there are better petrol and diesel powered alternatives like the Volvo XC40 or even the Toyota RAV4 hybrid available. Still, if plenty of passenger space isn't a must-have consideration, then the Lexus UX could well be a great alternative when it comes to a premium compact SUV.
Pros 'n' Cons:
• Interior √
• Comfort √
• Economical hybrid system √
• Passenger & boot space X
• Price X
Fast Facts:
(Lexus UX Takumi)
• Price: £ 40,150
• Max speed: 110mph
• 0-62mph: 8.5seconds
• Range: 53.2mpg
• Engine layout: 2.0-litre petrol engine and electric motor
• Max. power: 182bhp
• CO2: 128g/km
Interested in buying a used Lexus? Click here.
Other Lexus Reviews that might interest you:
For more CarCliq Reviews, click here.