Smart motorways have been making headlines a lot in recent months but the latest news comes that the UK government are set to put all smart motorway development schemes on hold while they await results of a review into their safety.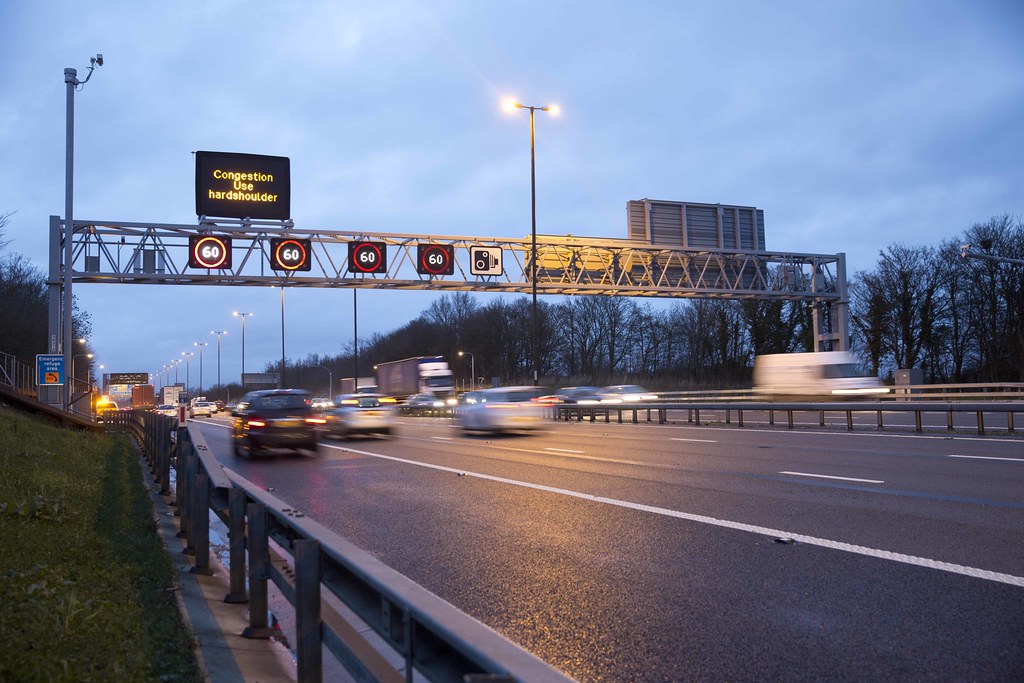 Smart motorways are sections of road that use traffic management methods in a bid to increase capacity and reduce congestion on motorways, particularly in recognised busy areas. These methods involve using the hard shoulder as a running lane and using variable speed limits to control the flow of traffic. However, converting the hard shoulder into an all running lane means that broken down vehicles are unable to reach a refuge area, forcing motorists to remain stationary in 'live' lanes, with no protection against oncoming traffic.
Although stopped car detection systems, which use radar to spot vehicles that have broken down, are in place, they are only in operation on two sections of the M25. However, recent data revealed that motorists have to wait, on average, 17 minutes before they are detected and a further 17 minutes before they are rescued.
Despite comprising of around 200 miles of the UK's 2,300 mile motorway network, in the last five years smart motorways have come under heavy criticism. Reports suggest that they are too complicated to use and leave motorists feeling confused, not to mention the safety issues surrounding them. Grant Shapps, the transport secretary recently announced that "the stretch of the M20 and all other stretches that are currently being worked on will not be opened until we have the outcome of the stocktake." The move comes after increasing pressure from safety groups to review the dangers of smart motorways after figures reveal there have been 38 deaths over five years on smart motorways.
In recent weeks new data also revealed that the number of near-misses had increased 20-fold since sections of motorway have been converted to smart motorways and the hard shoulder taken away. The figures found that five years prior, one section of the M25 saw just 72 near-miss incidents, yet since its conversion to a smart motorway there has been a huge increase with 1,485 near-miss incidents reported in the last five years.
The move to postpone any further smart motorway developments means that the £92 million project, converting a stretch of the M20 in Kent into a smart motorway, has been put on hold and may even be axed entirely pending the results into the review. The works into converting that particular section of motorway have been underway for the last two years and were expected to be completed in March of this year but according to Mr Shapps "that stretch of the M20 and all other stretches currently being worked on will not be opened until we have the outcome". Other motorways affected by the suspension include areas of the M23 between Gatwick Airport and the M25, part of the M6 near Coventry as well as a 10 mile stretch of the M62 in Greater Manchester.
The review into smart motorway safety is being carried out by the Department for Transport and a spokesperson for Highways England said that "any death on our roads is one too many" and that "we are committed to safety and are supporting the Department in its work on this". While the evaluation of smart motorways is still ongoing, it was indicated by Mr Shapps himself that, if they were deemed to be less safe than conventional motorways with a permanent hard shoulder, they could be scrapped completely.
What are your views on smart motorways? Do you find them too complicated to use and hope they will be axed? Let us know your thoughts via our social media channels.
Other CarCliq articles that might interest you:
Did You Know: Fun Facts About Motorways
Motorway Exits You Don't Want To Miss
For more CarCliq News, click here.