With the ever increasing popularity of SUVs, it's tough to stand out from the crowd but Toyota managed to do just that with their compact crossover. Whilst it looks more like a futuristic concept model, the Toyota C-HR certainly turns heads with its bold styling, taking on family SUV rivals such as the Skoda Karoq, Volkswagen T-Roc and Nissan Qashqai. However, three years on and the C-HR has received a makeover, albeit a rather subtle one, and, in contrast to its rivals, now comes with hybrid power, but how does it compare?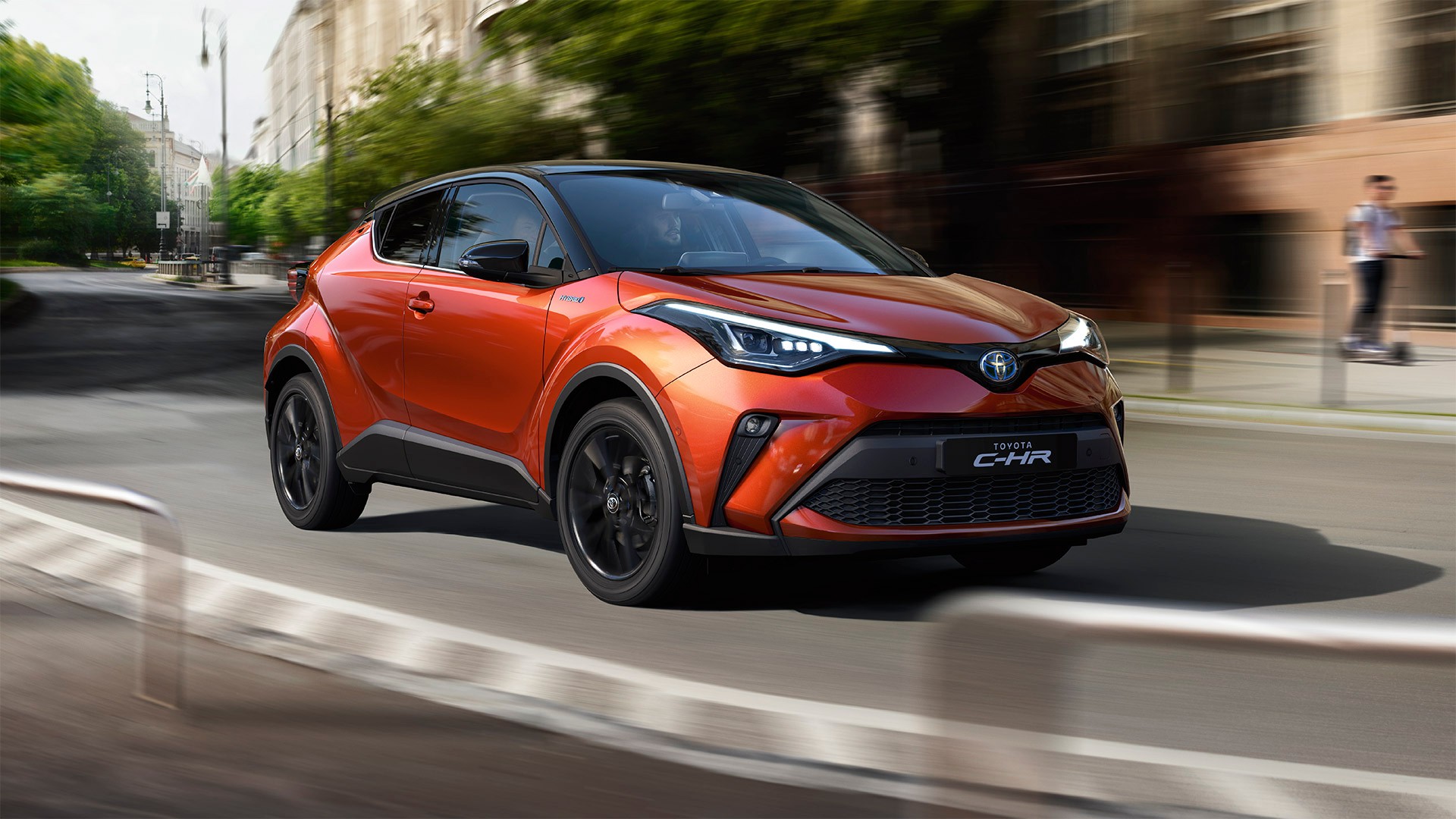 Under the bonnet, Toyota make use of a petrol engine in combination with an electric motor to power the C-HR, and is available in either a 1.8litre or a more powerful 2.0litre engine. It's worth mentioning that the C-HR is a 'self-charging' hybrid like the Toyota RAV4 and not a plug-in hybrid like the upcoming Renault Captur. The 1.8 produces 120bhp with a 0-62mph time of 11.0 seconds and a top speed is 105mph, but at lower speeds feels more responsive than the figures suggest. The 182bhp 2.0litre engine, on the other hand, has a respectable 8.2 second acceleration time and maintains a top speed of 112mph. Despite not being able to charge the vehicle with a cable, drivers will spend a surprising amount of time in EV mode. However, the 2.0-litre variant is more effective in EV mode due to its more powerful electric motor that will kick in for short bursts at speeds of up to 75mph.
As for handling, the C-HR feels quite responsive and the well weighted steering allows it to glide through tight city streets fairly easily. It maintains a low centre of gravity, despite its raised ride height, and doesn't lean into tight corners too much. For those looking to change the responsiveness of the gearbox, steering and accelerator; Sport, Normal and Eco driving modes are offered. Regardless of which mode is selected, the C-HR's steering feels precise and combined with the high driving position, males it very easy to place on the road. Whilst it isn't quite as refined as the Peugeot 3008, with the C-HR generating a fair amount of wind and road noise at motorway speeds, it does well to on the poorer road surfaces with only the biggest of ruts and bumps making their presence known in the cabin.
Trims for the C-HR hybrid remain the same with Icon, Design, Dynamic and Excel along with a top of the range Orange Edition. All models come with a large 8inch touchscreen infotainment system as standard that's mounted high up on the dashboard in the driver's eye line, making it easy to see and use when on the move. Entry level models will see a reversing camera, Apple CarPlay and Android Auto and Toyota's Safety Sense package of active safety technology added as standard. Moving up the range will see the C-HR gain 18inch alloy wheels, sat-nav, keyless entry, heated door mirrors and parking assistance while top specs will add a different design of 18inch alloys, rear cross-traffic alert with automatic braking, blind-spot monitoring and adaptive LED front and rear lights. Finally, the Orange Edition is limited to just 500 models, and, as you may have guessed, is finished in 'Scorched Orange' paintwork with contrasting 18-inch matte black alloy wheels and a black bi-tone roof.
Inside the C-HR looks sleek and uncluttered, with a sturdy interior consisting of glossy plastics and fabric, although the infotainment system's plastic casing does look rather chunky. There's plenty of space up front for even the tallest of adults and the raised driving position makes for a relaxing experience behind the wheel. However, back seat passengers may find it rather tight but should be able to manage – if they're not too tall, but have three passengers in the back and it will certainly be a bit of a squeeze particularly with the sloping roofline impacting headroom as well as rear visibility. Boot space in the C-HR is rather on the small side compared to the spacious Skoda Karoq, with the 1.8litre offering up 377litres of luggage space with the rear seats up, while the 2.0litre model only manages 358 litres. While the 60:40 split-folding rear seats will offer more space for those that need it, the seats don't lie totally flat and there's also a fairly pronounced lip that may be rather awkward when it comes to loading and unloading large items.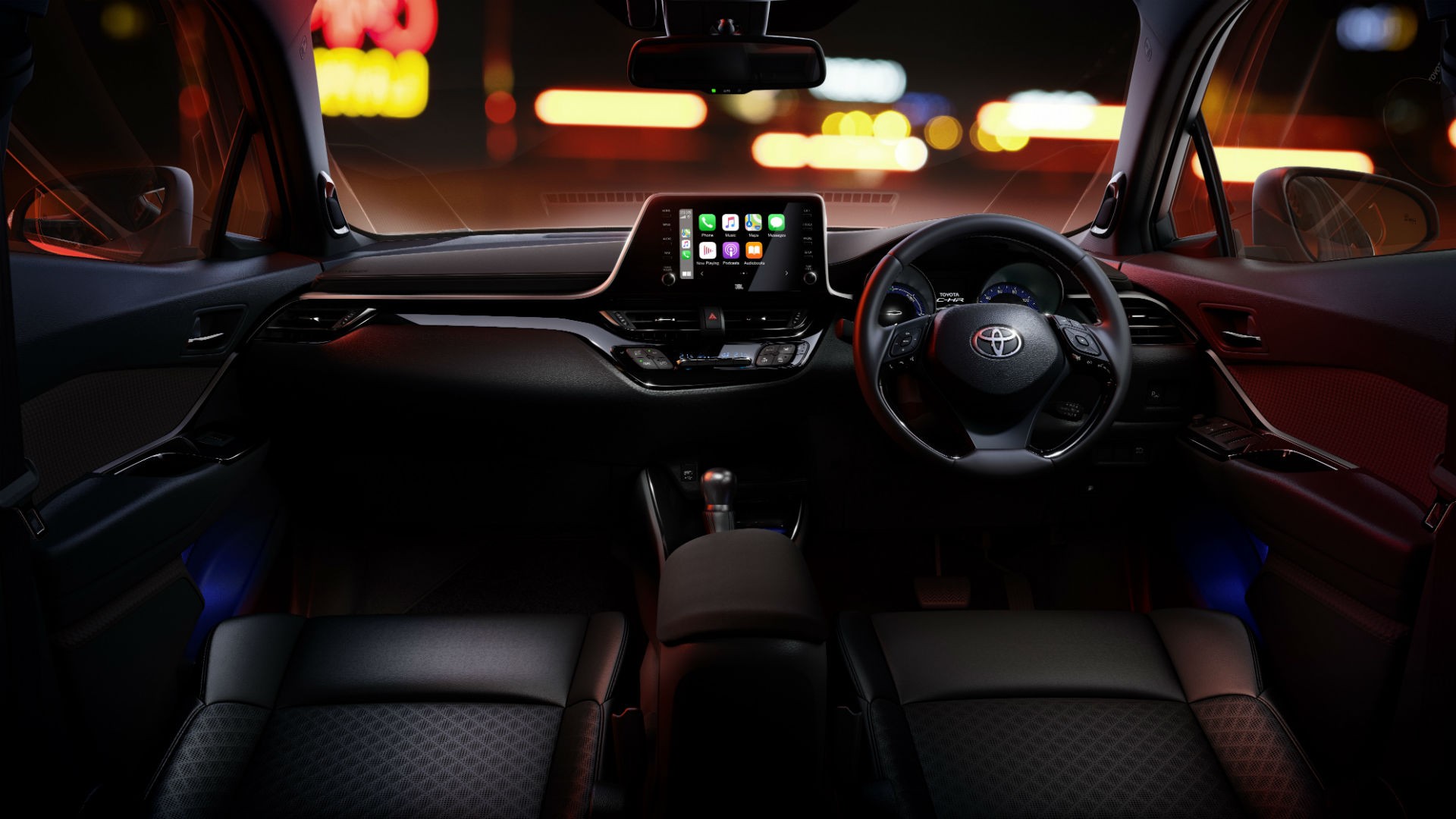 Should you buy one? The Toyota C-HR is a futuristic looking crossover and certainly not like Toyota models of old, and while it's quite compact on the inside and isn't perhaps as practical as other family SUVs on the market, it has some compelling features. The C-HR is easy to drive, its new hybrid power makes it cheaper to run and its bold design will have no problem turning heads, and for those looking for a small family SUV, the Toyota C-HR is well worth a look.
Pros 'n' Cons:
• Styling √
• Interior √
• Handling √
• Rear Space X
• Noise X
Fast Facts:
(Toyota C-HR Hybrid Design)
• Price: £29,645.
• Max speed: 112mph
• 0-62 mph: 8.2seconds
• Range: 53.2mpg
• Engine layout: 2.0litre Hybrid Petrol
• Max. power: 182bhp
• CO2: 92g/km
Interested in buying a used Toyota C-HR Hybrid? Click here.
Other Toyota articles that might interest you:
New Toyota Corolla 2019 Review
For more CarCliq Reviews, click here