The Mercedes-Benz GLA was the German manufacturer's first venture into the compact SUV end of the market when it launched back in 2014. You'd be forgiven for thinking that it was little more than a jacked-up A Class, and whilst the latest model shares some of the same underpinnings as the A-Class hatchback and CLA saloon, it's also rather different from its siblings. Now into its second generation, the latest GLA seems to be more committed to the suburban SUV theme, taking on established rivals in the premium crossover segment in the form of the BMW X1, Audi Q3 and Volvo XC40.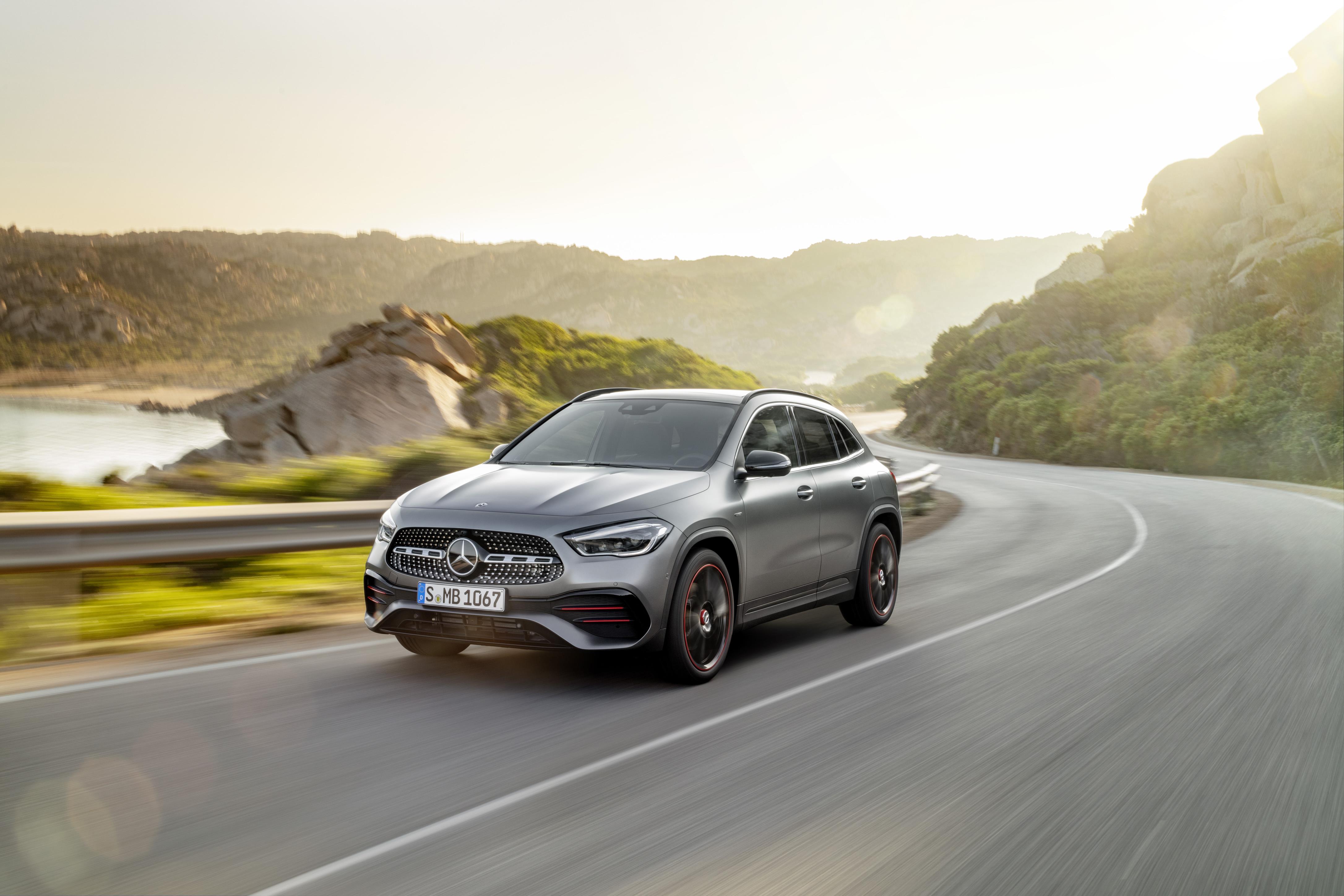 The latest GLA has several engines to choose from, the first being the GLA 200, a 1.3 litre four-cylinder petrol engine producing 161bhp and capable of accelerating to 62mph in 8.7 seconds. The other entry-level option alongside the 200 is the GLA 200d, a 2.0 litre four-cylinder diesel engine with 148bhp. Moving up the range there's a larger, more powerful petrol engine available, the GLA 250, this is a 2.0 litre engine producing 221bhp, while the top ranging diesel engine is the GLA 220d, producing 187bhp. All but the GLA 200 come with eight-speed automatic transmission, while the GLA 200 has a seven-speed auto.
When it comes to handling, the GLA's steering feels quite light, but it's precise and easy to place on the road, which is also aided by the increased ride height, providing the GLA with a more commanding driving position than its predecessor. Despite its raised ride height, body control is well contained, with the GLA still managing to feel agile during quick directional changes whilst maintaining a good grip on the road. Performance can be further helped with the addition of the four-wheel-drive setup on 4MATIC GLA models, a system that distributes power based on the driving mode the car is in and the road conditions. In eco and comfort modes, 80% of the engine's power is sent to the front wheels, while 20% is sent to the rear, whereas in off-road mode, it is split 50-50 and while it doesn't bring the kind of off-roading abilities of a Land Rover, it maximises the grip on offer.
The overall ease of driving the GLA makes it very appealing when it comes to everyday life, and its refined interior greatly improves long distance travel. The cabin is well isolated, keeping road noise to a minimum. Inside, it's all very classy with two large infotainment systems, the same as those found in the A-Class hatchback. There's also plenty of trims to choose from when it comes to the latest GLA, with 6 options available. The entry-level Sport line includes 18inch alloy wheels, LED headlights, Mercedes Me Connectivity with 'Hey Mercedes' voice-activated virtual assistant and heated front seats as standard. Mercedes' latest MBUX system is also included, giving drivers the option of using various voice-commands to control the car's features, as well as providing sat-nav directions through a live video feed from a camera above the car's windscreen. Go for the top of the range AMG Line Premium and AMG Line Premium Plus and keyless entry, a 10inch digital cockpit, a mid-range sound system, augmented reality for navigation, 64-colour ambient lighting along with a panoramic sunroof and memory seats are added. There's also plenty of tech available on the GLA that include adaptive cruise control that'll accelerate, brake and steer for you on motorways and a clever steering assist system that can help you avoid collisions by steering around obstacles as well as traffic sign assist and adaptive high-beam assist plus.
Despite being only 10cm taller, interior space is good, with plenty of room for four adults to sit comfortably. There's 11cm more legroom in the back than the old model, and headroom is decent too, so convincing a couple of adults to sit back there shouldn't be too difficult. There's also the option of a set of sliding and reclining rear seats, for an extra cost of course. Boot space is plentiful too; you'll be able to fit more luggage in the new Mercedes GLA's boot than in the old car's. With the rear seats in place, the GLA has a capacity of 421litres, but fold them down and there's an impressive 1,235litres. There's no load lip either on the GLA, so it should be pretty easy to manoeuvre heavy items in and out of the boot.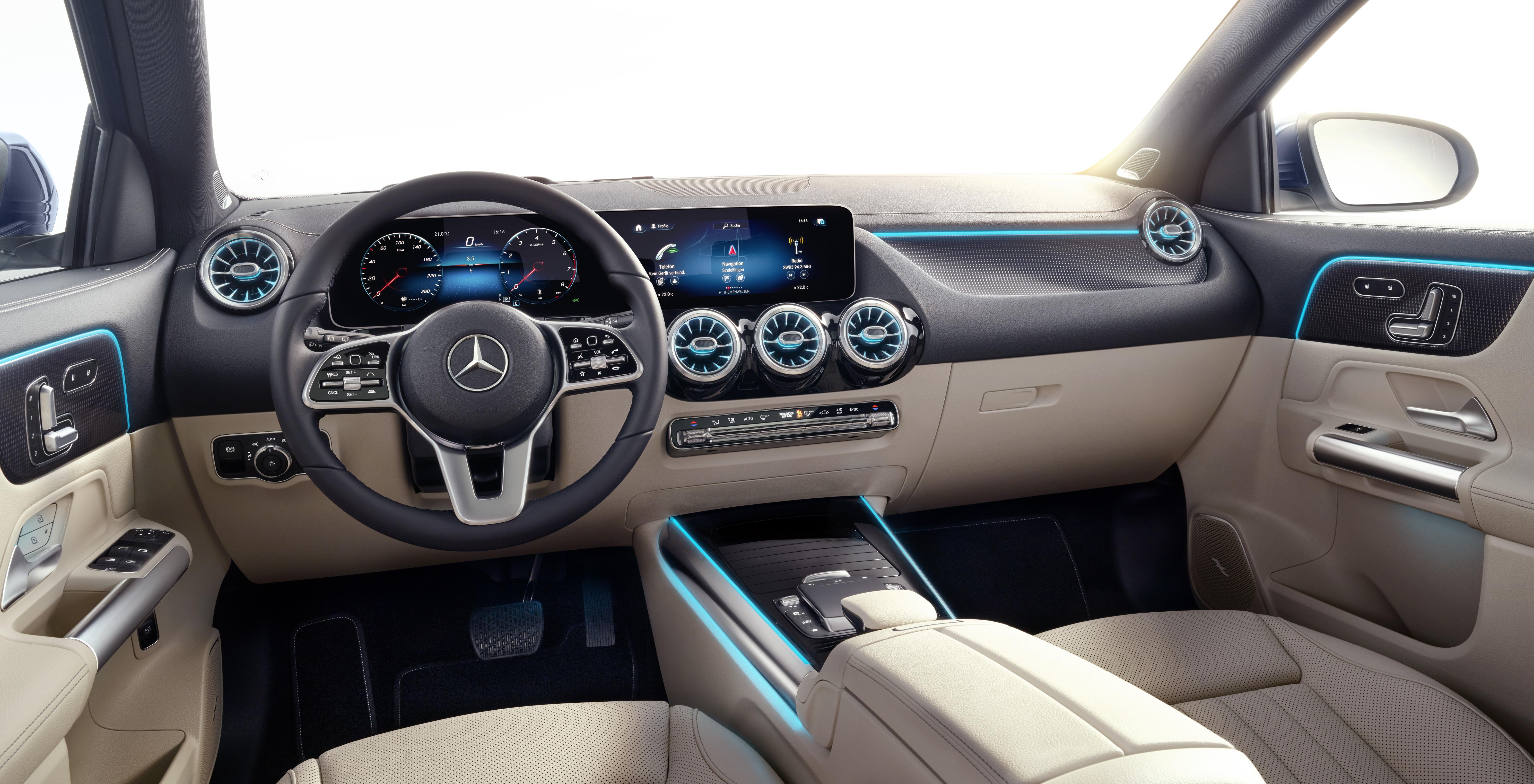 Should you buy one? High-riding hatchbacks styled as family SUVs like the Audi Q3 and BMW X1 are becoming extremely popular among the masses, and the Mercedes-Benz GLA certainly fits the bill if you're after a premium small SUV. The latest GLA is a good-looking, spacious, albeit pricey, crossover that tries to offer everything to everyone and if you're looking for a premium compact SUV then the GLA should definitely be on your shortlist. If you're less into premium labels however, then there are cheaper alternatives like the Volkswagen Tiguan and Skoda Karoq if you're shopping in this market.
Pros 'n' Cons:
• Practical √
• Handling √
• Technology and kit √
• Expensive extras X
• Price X
Fast Facts:
(Mercedes-Benz GLA 200d Sport Executive)
• Price: £ 35,285.00
• Max speed: 129mph
• 0-62mph: 8.6seconds
• Range: 52.3mpg
• Engine layout: 2.0 litre four-cylinder diesel engine
• Max. power: 148bhp
• CO2: 126g/km
Interested in buying a used Mercedes? Click here.
Other Mercedes-Benz Reviews that might interest you:
Mercedes-Benz A-Class Facelift
New Mercedes-Benz A-Class 2018
For more CarCliq Reviews, click here.