SUVs and electric vehicles; two of the most popular and competitive classes in the motor industry, but in a world that's becoming increasingly more conscious about its carbon footprint, can you really get the best of both worlds with an electric SUV? It would appear so. The Hyundai Kona Electric, albeit a compact SUV, is rather impressive; it boasts an exceptional range between charges and offers decent levels of comfort and practicality, making it a great all-rounder when competing with some of the best mainstream electric cars such as the Nissan Leaf, Volkswagen e-Golf, Renault Zoe and Kia e-Niro.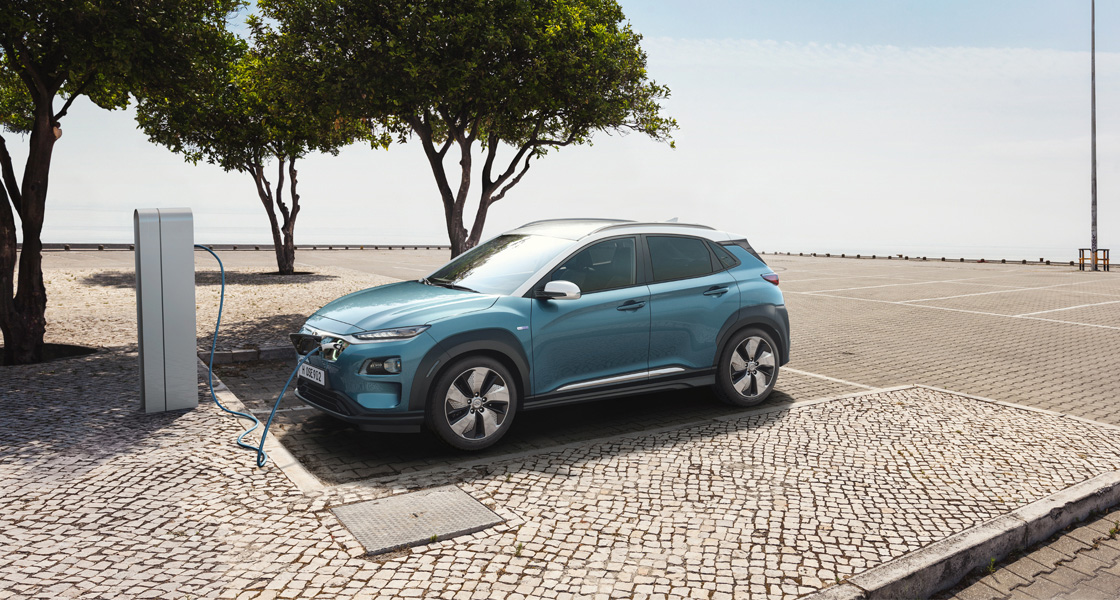 The Kona Electric is available with two power outlets, a 39kWh model with 133bhp and an official range of 180 miles for those who don't need a huge range while the larger, 64kWh battery with 201bhp offers an impressive 278 mile range, dispelling any range anxieties that might be stopping you from switching to an electric car. If that isn't enough to convince even the most sceptical of car buyers to convert then the Kona electric comes complete with Hyundai's five-year, unlimited mileage warranty. The Kona is built on the same platform and uses the same powertrain as the Kia e-Niro and while the e-Niro is slightly longer and more practical, the Hyundai doesn't trail too far behind. Top speed is restricted to 96mph on the 39kWh version, while 0-62mph acceleration takes 9.7 seconds, on the 64kWh model however, top speed is just 104mph, but the Kona Electric does manage the 0-62mph sprint in just 7.9 seconds. Charging the Kona Electric to 80% using a 100kWh charger will take just 54 minutes while on the more standard 50kWh chargers, charging time is doubled. For those with the domestic 7kWh wallbox chargers, the 39kWh model takes just over six hours to recharge while the 64kWh takes nearly 10 hours, so best to leave them charging overnight.
As for handling, the Kona Electric is surprisingly quick off the mark, a simple touch of the accelerator pedal and the car immediately surges forward. However, take your foot off the accelerator and the car quickly slows thanks to the regenerative braking system, allowing the car to harvest otherwise wasted energy to recharge the battery. Despite being quite a weighty vehicle, the Kona Electric can't hide the slight body roll that's experienced in the bends but its low centre of gravity means it remains relatively composed. However, on the more bumpy and scarred roads, occupants will find themselves jostled around the cabin somewhat but not enough that it becomes really annoying. There's also more road noise than in the Nissan Leaf and Volkswagen e-Golf, but the Kona Electric does come with Hyundai's 'Virtual Engine Sound System', that imitates engine noise around nearby cars and pedestrians at low speeds as a safety feature.
On the inside, the Kona Electric has received some subtle changes compared to its petrol and diesel variants, most notably the lack of a conventional transmission lever that's replaced with a raised centre console with a collection of buttons to select the transmission mode. The Kona Electric does have a range-topping look and feel to it compared to its regular Kona sibling and Nissan leaf rival, but can't quite compete with the more premium interiors found in the Volkswagen Golf and BMW i3. There's 3 trims available for the Kona; SE, Premium and Premium SE. Standard SE models get a 7inch digital display and 7inch infotainment system, providing access to Apple CarPlay and Android Auto and other smartphone functions while on the move. Safety features including autonomous emergency braking, blind spot detection, lane keeping assist and forward collision warning all comes as standard. However, upgrading to the Premium or Premium SE model will see the infotainment increase to 10.25inches with additional safety features such as speed limit warning, lane follow assist and cross traffic alerts added.
Forward visibility is good compared to the Nissan Leaf's restrictive chunky windscreen pillars, while over-the-shoulder visibility could be better but at least all Kona Electric models come with a rear-view camera and front and rear parking sensors to help combat this. Despite Hyundai's claim that the car is every bit as practical as a conventionally powered Kona, the Kona Electric isn't a particularly spacious car. While those in the front will have little to complain about – even those over 6 foot, but the same can't be said when it comes to rear passenger space. There's enough space for two tall adults to sit comfortably in the back, but travelling with 3 adults will be a bit of a squeeze, so journeys are best kept to short distances. Passengers over 6 foot however will find their head brushing the ceiling and while this is also true of the Nissan Leaf, the Leaf has considerably more rear legroom to compensate this. Boot space is adequate at 330litre but nothing to write home about, particularly when the Nissan Leaf has a capacity of 435litres, so for those needing a big boot, the Kona Electric perhaps isn't the car for you. However, the 60/40-split folding rear seats allow for additional space for those occasions when you need to carry more.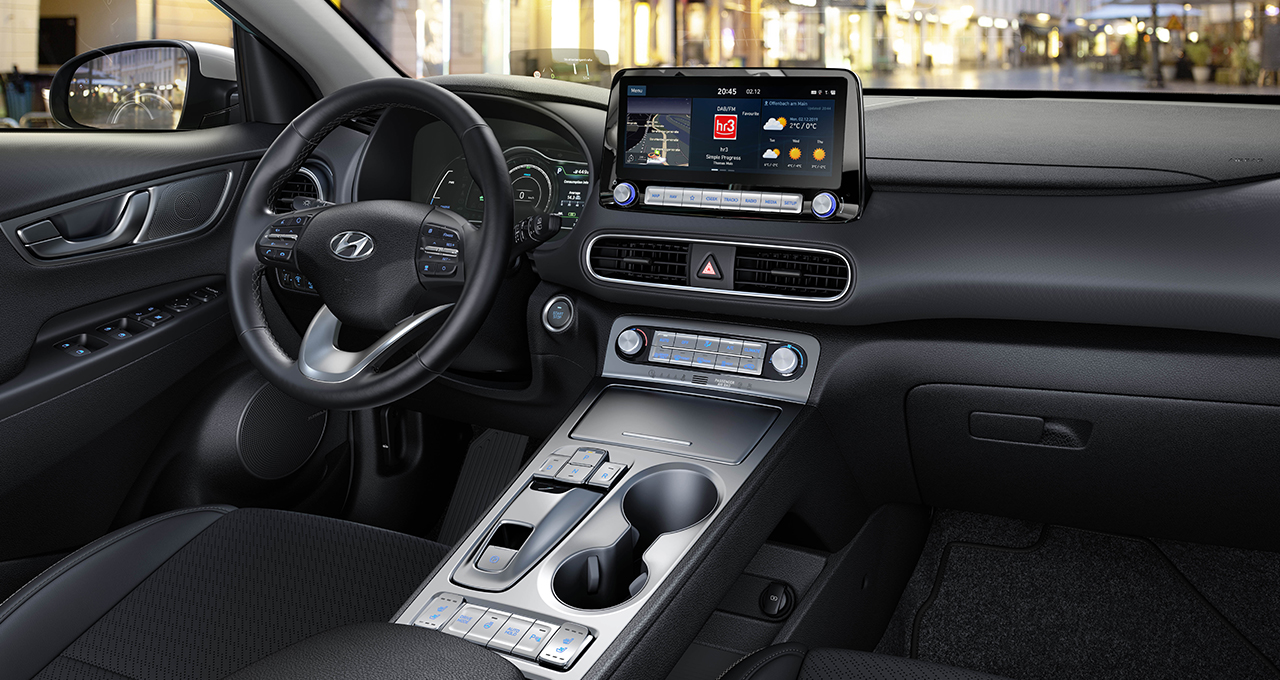 Should you buy one? While it costs more than its petrol and diesel Kona siblings, next to alternative electric vehicles such as the Nissan Leaf, Volkswagen e-Golf and BMW i3, the Hyundai Kona Electric is competitively priced. The e-Golf and i3 might be more premium while the Leaf boasts a considerably roomier cabin, but the Kona Electric's range beats all three models, dispelling any range anxieties that potential buyers might have. So if you're leaning towards a compact SUV and wanting to turn your back on conventional combustion engines, then the Hyundai Kona Electric might be the one for you.
Pros 'n' Cons:
• Electric range √
• Styling √
• Safety features & technology √
• Rear passenger space X
• Boot space X
Fast Facts:
(Hyundai Kona Electric Premium)
• Price: £35,600
• Max speed: 104mph
• 0-62 mph: 7.9seconds
• Range: 278miles
• Engine layout: 64KWh Electric
• Max. power: 201bhp
• CO2: 0g/km
Interested in buying a used Hyundai Kona? Click here.
Other Hyundai Reviews that might interest you:
Frankfurt International Motor Show 2019: Hyundai Reveals New Electric Vehicle Concept
All-new Hyundai Kona - First Drive Review
For more CarCliq Reviews, click here.