Possibly one of the boldest moves to come from Jaguar, the I-Pace is a sporty, fully electric SUV that fits right in, competing in two sectors that are rapidly growing in the motor industry. With established rivals such as the Tesla Model X, the I-Pace has a lot to offer as a luxury mid-sized SUV. With a combination of performance, range and luxury as well as brimming with technology, the I-Pace is perhaps one of the most fashionable EV's on the market but be warned it does come with a hefty price tag!
Being electric, the I-Pace doesn't have an engine, instead it is powered by a 90kWh lithium-ion battery, which drives two electric motors that provide four-wheel drive but is the only sized battery currently available. With 395bhp and a top speed of 124mph, the I-Pace is quickly powered forward from 0-60mph in as little as 4.5 seconds according to Jaguar's official figures. While the 90kWh battery pack provides the I-Pace with an estimated driving range of 292 miles maximum, in as little as an hour, a public 50KW charging port could see the battery charged with a range of approximately 168 miles. Using a standard a 7kWh household power source could take around 13 hours for a full charge. As with most electric vehicles, the lack of engine means that very little noise is actually produced, however Jaguar combat this by fitting the I-Pace with a synthetic soundtrack that can be adjusted from 'calm' to 'dynamic' should you want to get a sense of speed.
Behind the wheel, the 2.2-tonne weight and 20-inch alloys – 22inch wheels are also available, make for a bit of a thud when you hit a pothole or bumpy stretch of road however, at speed, on the higher spec models, the air suspension does a reasonable job of smoothing this out. The vehicle changes direction keenly enough which is partly down to a suspension setup that it shares with the Jaguar F-Type. The bulk of the car's mass is located low down, with the heavy batteries hidden neatly away under the floor, helping reduce the car's centre of gravity and stopping its tall body from leaning in to tight corners excessively.
As with all electric cars, regenerative braking captures some of the energy that is normally lost when you take your foot off the accelerator, but when you set the I-Pace to its maximum setting, this isn't the case. In fact, the effect is so strong that you find that you rarely have to touch the brake pedal at all.
Unlike other rivals, the I-Pace doesn't sit particular high by SUV standards but does offer good forward visibility. Unfortunately the same cannot be said when to comes to the rearview; with thick rear pillars and a shallow window, you will find your view is somewhat restricted. Fortunately, Jaguar combat this with a 360 degree camera and rear cross-traffic alerts that are fitted across the range as standard. However, the rear camera display can be a bit slow to respond and at times can appear that you're approaching an obstacle much faster than you actually are.
In terms of interior, the I-Pace's is pretty futuristic but also genuinely plush with a mix of glossy black and brushed aluminium panelling alongside leather upholstered surfaces, the addition of a 12.3 digital display in place of traditional analogue instrument dials adds to the modern and sophisticated feel. There's also a partly touch-sensitive panel lower down the centre console, that is used to control things like climate control but can be a bit distracting when it comes to finding the right area to hit while driving, forcing you to take your eyes off the road. Although DAB radio, Bluetooth, sat-nav, Apple CarPlay and Android Auto are all included as standard, the infotainment system is arguably the weakest aspect of the I-Pace's entire cabin. Despite the slow input and response from the digital display and infotainment system, there are still plenty of other redeeming features to make use of, such as separate key-fobs that allow the I-Pace to identify the driver's preferences, ensuring that their climate control and infotainment settings are in place every time they get behind the wheel.
As for comfort, the standard sports seats in the front not only look great but offer lots of support and comfort; proving particularly beneficial on those longer journeys. There's plenty of head and legroom both in the front and rear of the cabin that even the tallest of passengers can enjoy. While the rear can seat two adults comfortably, three could be a bit of a squeeze and may feel slightly claustrophobic due to the way the roof curves down towards the sides of the car. Throughout the cabin there's plenty of handy storage compartments from the generous door bins on all four doors, to the smartphone slots between the front seats – there's even a shelf for an iPad beneath the rear bench! As for boot space, the I-Pace is more than adequate and will hold up to 656 litres behind the rear seats. Fold these flat and the load space increase to 1,453 litres and if you still need more space then there's always the front storage compartment beneath the bonnet that provides a further 27 litres.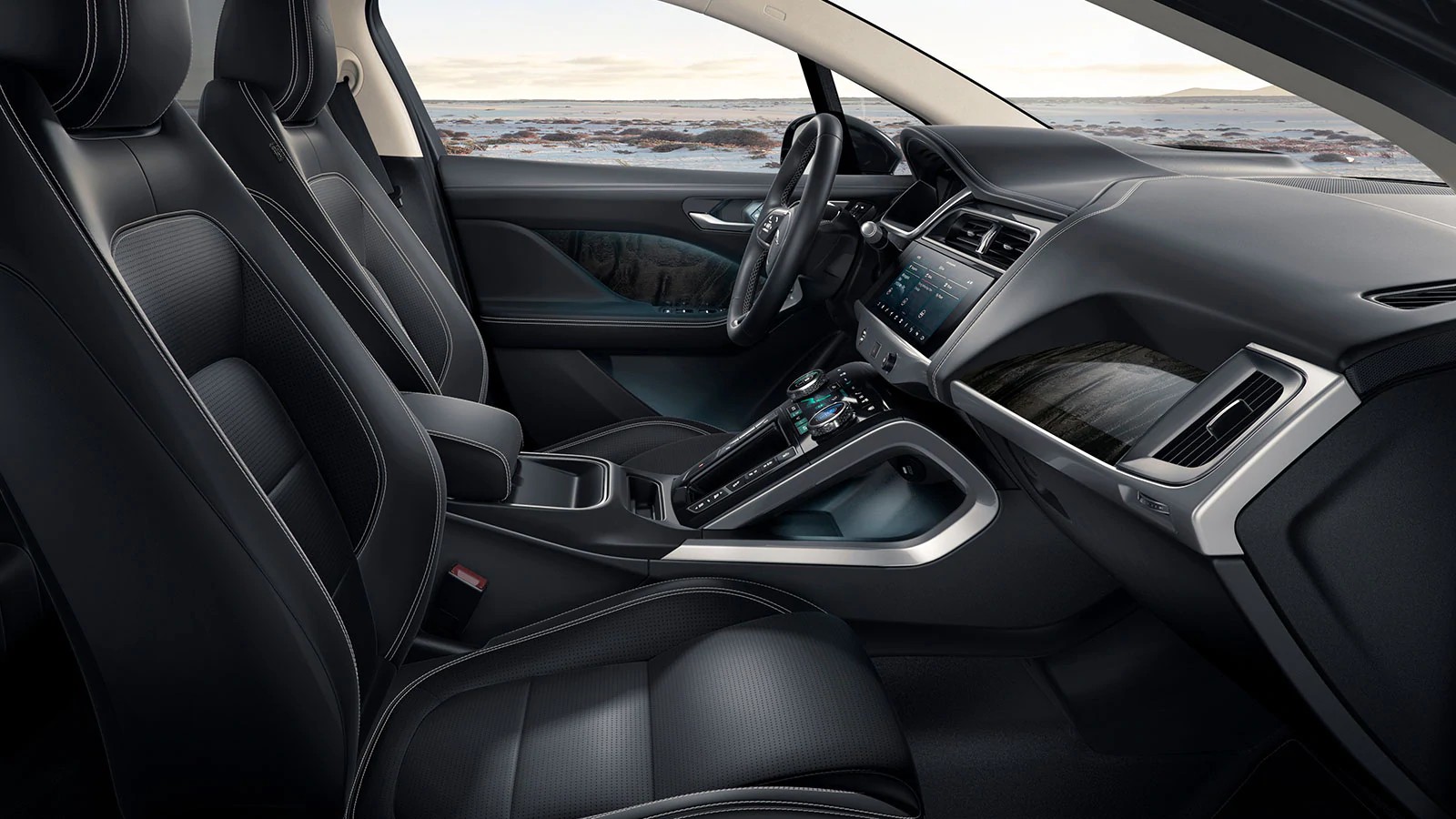 Should you buy one? The Jaguar I-Pace is ranked amongst some of the best hybrids and electric vehicles that are currently available and has a lot of redeeming features in terms of handling, interior space and comfort. However, it won't convince or even convert millions of people to go electric simply because of its hefty price tag, particularly when models like the Kia e-Niro and Hyundai Kona Electric are available that offer similar real-world ranges but for around half the price.
Pros 'n' Cons
• Interior √
• Ride Comfort √
• Driving Range √
• Price X
• Responsive Software X
Fast Facts
(Jaguar I-Pace S EV400)
• Price: £60,995
• Max speed: 124mph
• 0-60 mph: 4.5 seconds
• Range: 292 miles
• Engine layout: 2 electric motors
• Max. power: 395bhp
• CO2: 0 g/km
Interested in buying a used Jaguar? Click here.
Other Jaguar Reviews:
All New Jaguar XF -First Drive
For more CarCliq Reviews, click here.