With calls to bring the ban on the sale of petrol and diesel cars forward, manufactures are ditching diesel and opting for hybrid drivetrains and Japanese manufacturer; Honda are no different. Whilst the fifth generation Honda CR-V SUV has been on sale for several months now, a hybrid option has joined the range. Given the amount of choice in this class, the CR-V hybrid aims to reach a wider audience than ever before but how does it compare when taking on rivals that include the Skoda Kodiaq, Volkswagen Tiguan and Mazda CX-5?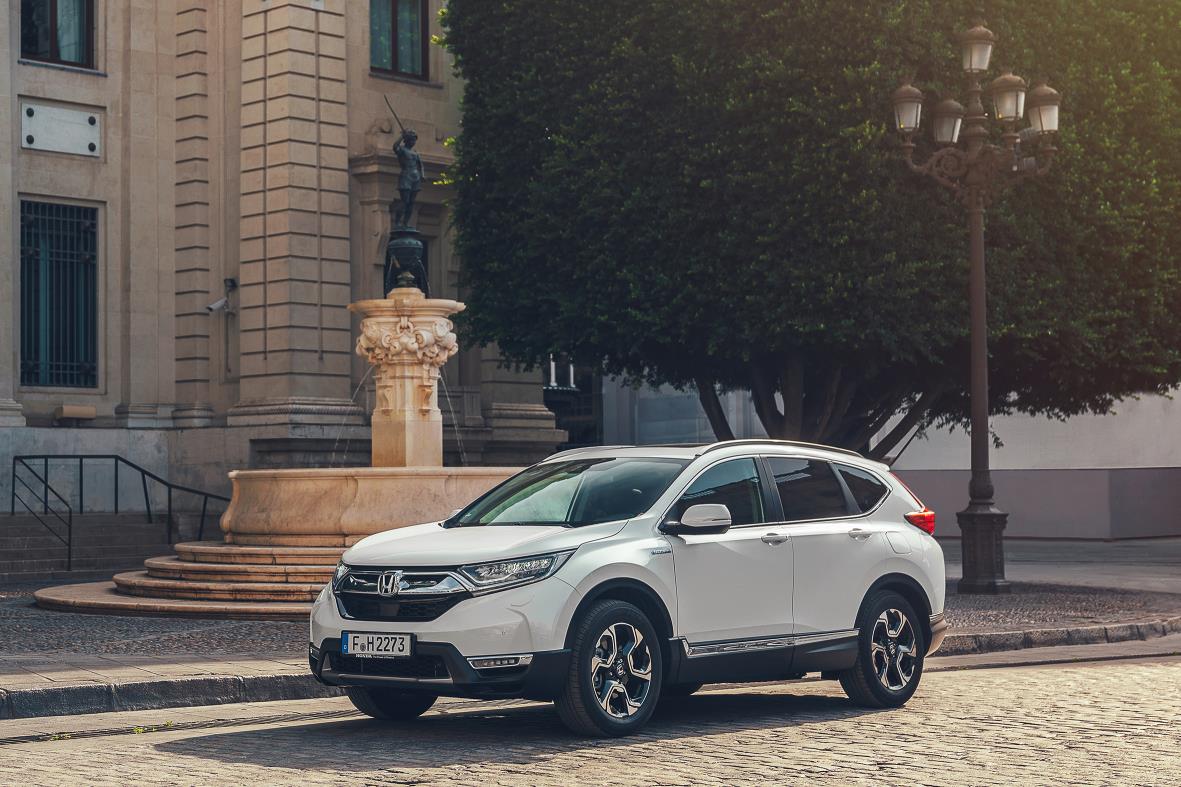 The CR-V was launched with a 1.5-litre turbocharged petrol engine and, since Honda's decision to ditch diesel entirely from the range, that largely remains the case although the latest generation includes a new 1.5 VTEC turbo petrol engine instead. Then there's the addition of the hybrid model that pairs a 2.0-litre petrol engine with an electric two-motor system and while the CR-V is no off-roader, the hybrid model is offered in front and all-wheel drive. The combined 2.0-litre petrol engine and pair of electric motors produce an output of 182bhp, powering the vehicle from 0-62mph in under 9 seconds and reaches a top speed of up to 112mph.
The petrol-electric setup is rather refined, allowing the CR-V Hybrid to be driven in three different modes, seamlessly switching between Hybrid Drive, Engine Drive and EV Drive automatically. In Hybrid Drive, the engine runs quietly with power sent from the engine to the electric drive motor, in turn powering the second electric motor to provide momentum. Only in Engine Drive mode do the revs begin to rise, with the petrol engine directly powering the wheels. EV mode powers the vehicle using the battery alone, but with only a 1kWh battery to power the electric motor, all-electric running is only possible for short distances. Drivers also need to drive a reasonable distance to fully recharge the battery either through regenerative braking or by converting excess energy from the engine.
Despite the CR-V Hybrid being a fairly large family car, it handles reasonably well and its sharp, precise steering is well weighted, handling twisty roads with confidence and ease. Its suspension does a good job of absorbing bumps on even the most scarred roads and while there's some noticeable bodyroll due to the CR-V's tall body, it does feel slightly more agile than its Volkswagen Tiguan rival. Although it's not as spirited as a Mazda CX-5 or Ford Kuga, the CR-V manages to feel controlled and comfortable on the move. In terms of noise, it's impressively quiet with wind and road noise kept to a minimum and, with the hybrid system keeping the engine running on low revs the majority of the time, the engine only really makes a noise when you accelerate hard.
The hybrid is available in the same S, SE, SR and EX trim levels that are offered with the petrol engine, while front-wheel drive can be chosen on the S, SE and SR, and all-wheel drive on the SE and SR, the EX trim however, is all-wheel-drive only. All models come with a whole host of safety features that include automatic emergency braking, lane keep assist, adaptive cruise control and traffic sign recognition. Upgrading to the SE will add parking sensors and a rear-view camera as well as Apple CarPlay and Android Auto, while the SR will feature smart entry and keyless start, a leather interior and active cornering lights as well as blind-spot warning and cross-traffic monitoring. The top-spec EX edition includes a heated steering wheel, head-up display, hands-free powered tailgate, heated rear seats and a panoramic sunroof as well as wood-effect panel inserts that seem slightly out-of-keeping with the rest of the cabin and won't be to everyone's tastes.
On the inside, CR-V Hybrid has plenty of space for those sitting in the front and back, with lots of useful pockets and compartments to keep things safely stowed away. Leg and headroom is plentiful that even the tallest of passengers will be comfortable in the CR-V Hybrid on long journeys and the high driving position allows for good visibility when it comes to navigating narrow urban roads. Seven seat configuration is no longer available in the hybrid, due to the lithium-ion battery pack that is situated beneath the boot floor. As a result boot space has been compromised, reducing luggage space from 561litre to 497litres and, although the Toyota RAV4 has more luggage space, the CR-V Hybrid is still big enough to handle the demands of family motoring.
Should you buy one? Whilst SUVs are soaring in popularity – almost every big car brand has something to offer, but add a hybrid model to the line-up and you may be on to something and Honda have done just that with their CR-V Hybrid. Unlike its 1.5-litre petrol counterpart, the hybrid model misses out on the benefit of seven-seat configuration and the lack of diesel engine may limit its appeal to some. However, its unique engine setup makes for a smooth, refined and relaxing drive that doesn't sacrifice the car's practicality, making the CR-V Hybrid a great alternative to traditional petrol and diesel models for those in the market for a greener, family sized SUV.
Pros 'n' Cons:
• Noise √
• Handling √
• Comfort √
• 7 Seat Configuration X
Fast Facts:
(Honda CR-V Hybrid SR )
• Price: £34,470.
• Max speed: 112mph
• 0-62 mph: 8.8seconds
• Range: 40.9mpg
• Engine layout: 2.0litre petrol engine and electric motor
• Max. power: 182bhp
• CO2: 120g/km
Interested in buying a used Honda CR-V Hybrid? Click here.
Other Honda reviews that might interest you:
The New Honda CR-V 2.2 i-DTEC SE
For more CarCliq Reviews, click here