The latest generation of the Honda Civic has been built completely from the ground up, something that's a rare occurrence with most model updates! Now in its 10th generation the 2019 Civic is very eye-catching with its modern angular styling, sloping roofline and low-slung body; a great visual improvement over the previous model. The developments don't stop there with upgrades to the suspension, new engine options, new interior technology and a range of safety systems fitted.
Driven at everyday speeds on most UK roads, the 2019 Honda Civic feels solid, planted, settled and reassuring. Sitting lower than in the old Civic and many rival hatches makes you feel connected to the road. There's no surprise that the ride is relatively stiff, but it never gets harsh over small bumps, and on big intrusions it usually finds something in reserve. Around corners it rolls less than most rival hatches and just gets on with the job of steering round the arc you set. There's not a lot of steering feel, but the general chassis confidence makes up for it. The car's electronic stability control system also works fairly well but doesn't prevent power-on understeer as neatly as you might want. From standard every model also comes with a range of safety systems such collision warning, auto city braking with pedestrian recognition, active lane keeping and radar cruise control.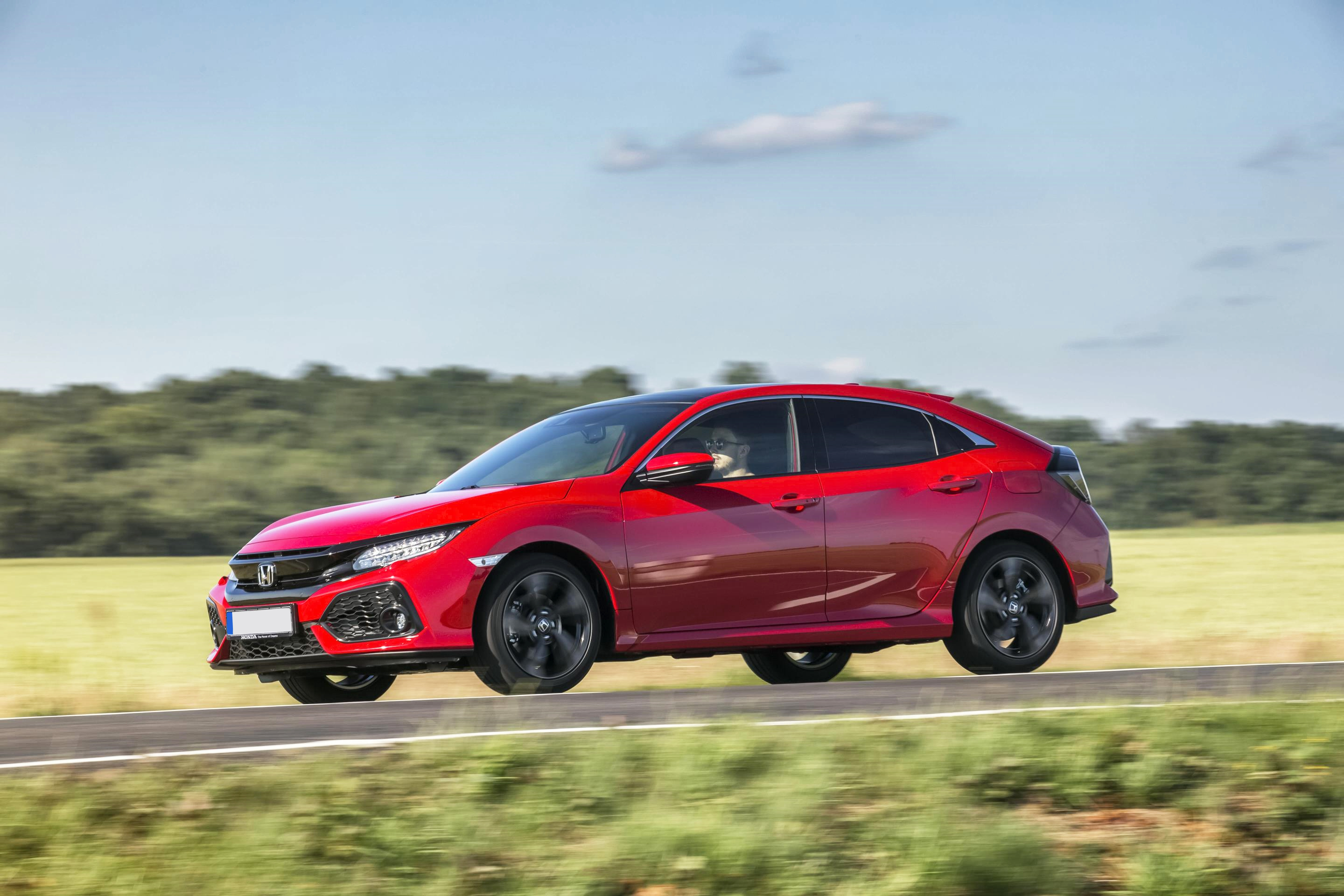 Under the bonnet you've a choice of three petrol engines and one diesel. Two new petrol engines comprise of a 1.0 three-cylinder turbo which makes a healthy 129bhp or if you want more performance there's a 1.5 four-cylinder turbo making 182bhp. Both are available with either a new six-speed manual transmission or a CVT automatic. The diesel option produces the lowest power at 118bhp but compensates with a claimed 80MPG although real-world figures will likely be a bit less. The final engine; a 2.0-litre VTEC turbo is bolted to the legendary Honda Civic Type R variant which produces an impressive 316bhp! The manual transmission on all the variants has a well-oiled lever action and wisely chosen ratios. The optional CVT (on the sensible engines, obviously) is decently predictable in light driving but if you're more aggressive with acceleration or take control using the paddles to choose between the seven virtual ratios it slurs annoyingly.
The interior of the 2019 Honda Civic is a nice place to be with 5 or 7 inch touch screens depending on specification. The larger of those features Honda Connect which usefully links you to web-based apps and traffic while also enabling Apple CarPlay and Android Auto. On the higher specs you also get a sat-nav supplied by Garmin, two USB sockets and one HDMI jack, a DAB tuner and an upgraded eight-speaker audio system. The centre console of the Civic is vastly accommodating with a two-level tray that holds a phone or three. This upper tray can also act as a wireless charger if your phone takes it or if not there's a handy slot for a USB cable to be wired up to it. Behind that is a big armrest-cubby-cupholder setup with several possible arrangements. The lengthier wheelbase over the previous generation means the cabin is quite spacious; the rear is fine legroom although the sloping roofline may be tight for taller passengers. The boot is also quite generously sized with 420 litres of storage space with the seats up which rises to 770 litres with the seats folded flat.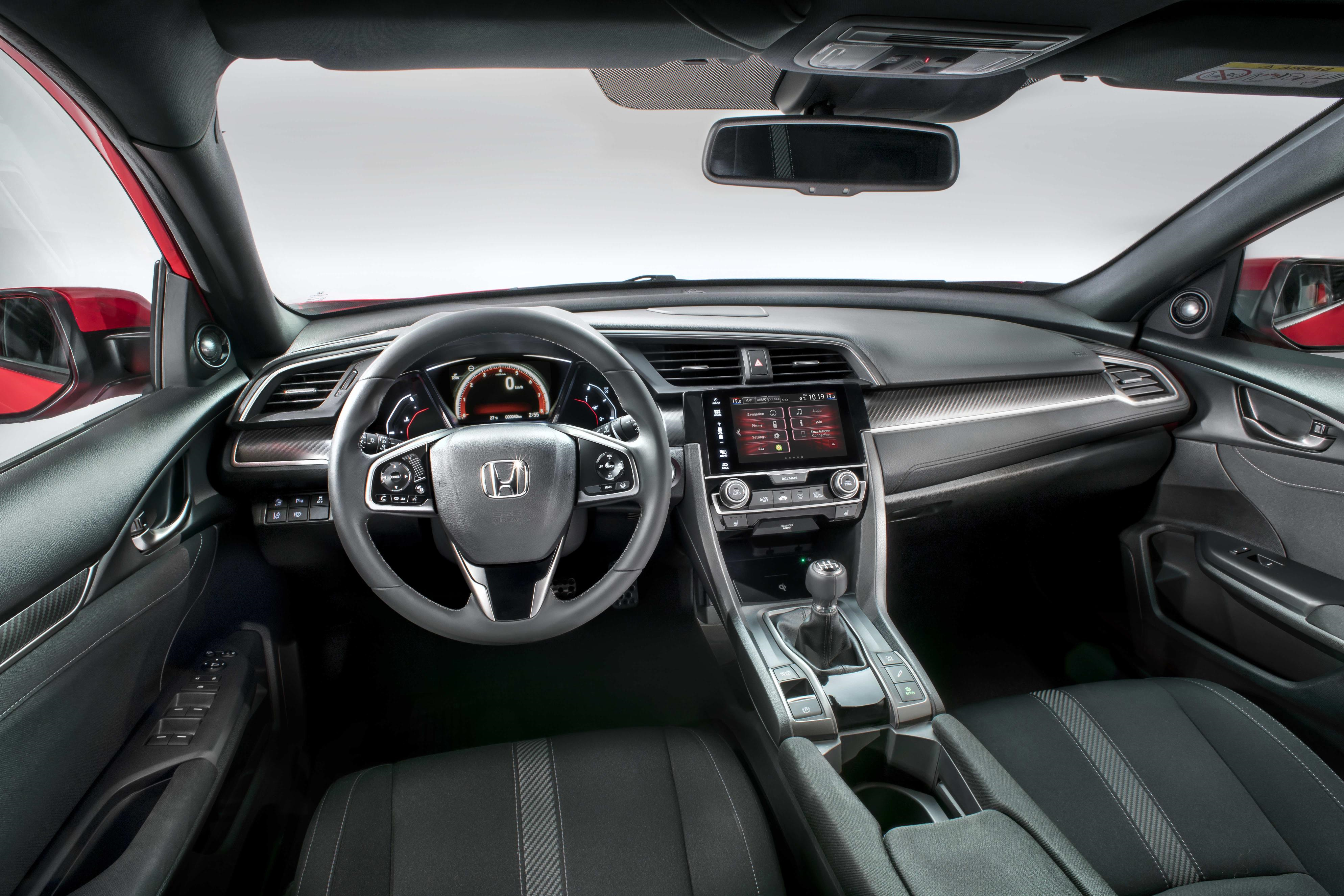 Should you buy one? The Honda Civic is a very popular hatchback on UK roads and the latest generation certainly lives up to the expectations! Performance with the turbo engines is lively versus rivals such as Ford Focus, Volkswagen Golf or Seat Leon; especially if you go for the range topping Type R. The four engine options make the choice simple for buyers while the exciting exterior looks draw you in. Despite the low roof and seats it's still roomy inside with ample space for all the family as well as lots of standard and optional tech. It's a great hatchback to consider for any driver, doing everything you want well with very few negatives so be sure to give it a look!
Pros 'n' Cons
• Styling √
• Performance √
• Interior Equipment √
• Interior Space √
• Mixed Cabin Quality X
Fast Facts
(Honda Civic 1.5 VTEC Turbo Sport 5dr)
• Price: £22,370
• 0-62 mph: 8.2 seconds
• Range: 50.4 MPG
• Engine layout: 1.5-Litre In-Line Petrol
• Max. power: 182bhp
• CO2: 128g/km
Let us know what you think of our 2019 Honda Civic review via our social media pages.
Interested in buying a used Honda Civic? click here
View More Honda Car Reviews here:
For more CarCliq Reviews click here