Based on the German brand's leading SUV; the Q8, and sharing the same 4.0-litre twin-turbocharged petrol engine as the RS6 and RS7 performance cars, Audi's latest SUV; the RS Q8 means business. Taking on established rivals in the form of the Porsche Cayenne Turbo, Range Rover Sport SVR, BMW X5 M and, the reigning champion in the SUV range, the Lamborghini Urus, the RS Q8 is perhaps the perfect solution for those needing the performance of a supercar and the space and comfort of a family SUV, but does it justify its £100,000-plus price tag?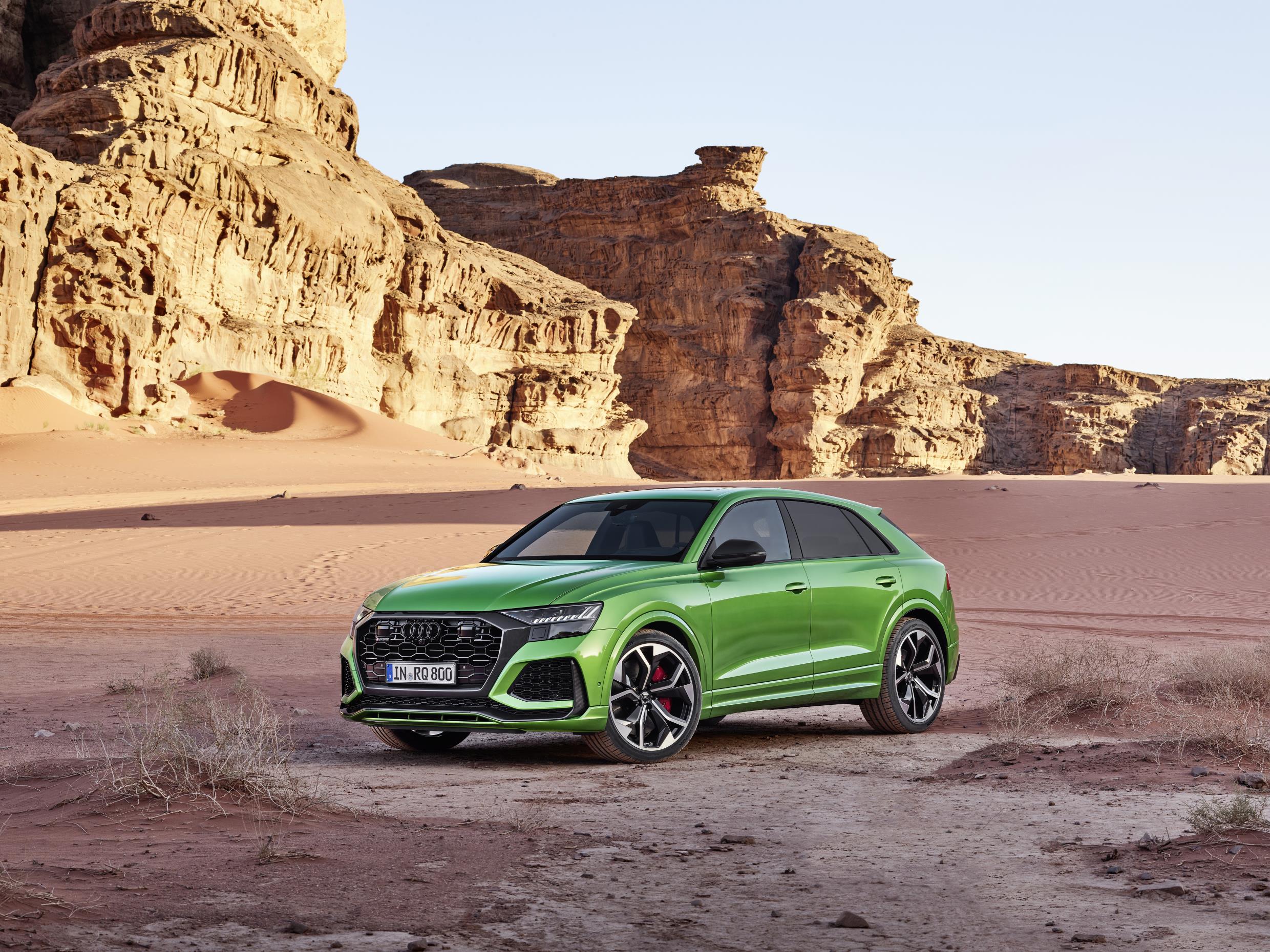 Under the bonnet, you'll find the same twin-turbocharged 4.0-litre V8 petrol engine that's in the Porsche Cayenne Turbo and Lamborghini Urus that delivers 592bhp, powering the two-tonne RS Q8 from 0-62mph in a hair-raising time of just 3.8 seconds. Audi's latest SUV has an electronically-limited top speed of 155mph, but this can be unlocked to 190mph with an optional dynamic package. The engine also features some clever tech that enables it to shut down half of its eight cylinders when they're not needed in order to save fuel. The mild hybrid system recovers some of the energy that is lost when slowing down and allows the car to coast for up to 40 seconds at a time with the engine off. As in all fast Audis, four-wheel drive is standard and the customisable driving modes, activated via a button on the steering wheel, adjust the engine and handling responses, as well as change what information is displayed on the digital instruments. The standard adaptive air suspension varies the ride height by up to 90mm; allowing you to decrease the height by 40mm for when you want to get sporty, and increase by 50mm, creating 200mm of ground clearance, should you wish to take advantage of the RS Q8's mild off-road abilities. As for handling, the RS Q8 performs the daily driving duties with comfort and ease, navigating effortlessly through traffic as well as tight city streets. Whilst it feels firmer than its Q8 sibling when on a motorway, in terms of ride quality it's on par with the top of the class Urus. Hit the motorway or even windy roads and the RS Q8's sharp gear changes and responsive steering give the impression that you're in a hot hatch rather than a large SUV. Road noise is barely noticeable despite sitting on 23-inch alloy wheels and rough, scarred roads and speed bumps do little deter the RS Q8 due to its stellar suspension.
The range of options available on the RS Q8 let you personalise the car's appearance from the choice of 23inch wheels – 22inch fitted as standard, down to the black and carbon fibre styling packs. The interior and finish are what you would expect from the German manufacturer and especially so for an SUV of this calibre. With lashings of Alcantara and napa leather throughout, along with Audi's signature RS honeycomb-pattern stitching, the RS Q8 exudes luxury and comfort. The inside is extremely roomy and will see drivers and passengers alike struggling to find any complaints when it comes to space. Rear-seated passengers will find there's a generous amount of knee and legroom, along with plenty of headroom, accommodating those over 6ft tall easily. Boot space is decent, with 605litres available, increasing to a capacity of 1755litres when the rear seats are folded down.
In terms of tech, Audi's latest MMI navigation and infotainment system featuring Apple CarPlay and Android Auto are fitted as standard. There's also plenty of smart safety and driver assistant technology available in the form of adaptive cruise control, lane-keep assist, rear cross-traffic alert, autonomous emergency braking, a 360-degree camera, traffic sign recognition and high-beam assist that recognises oncoming vehicles at night and switches headlights between main and dipped beam automatically, to name but a few.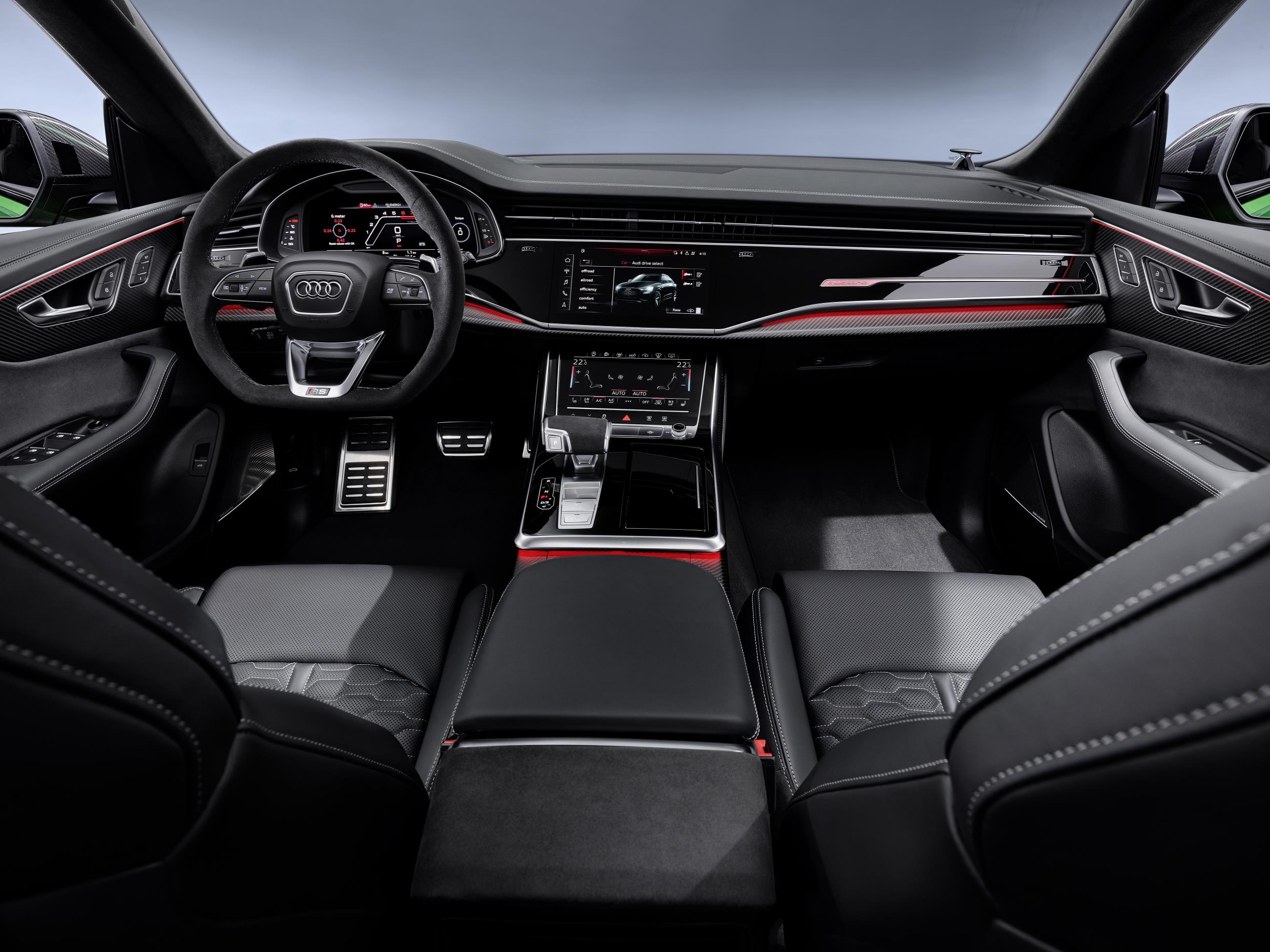 Should you buy one? With lots of truly impressive and seriously fast SUVs on the market, the Audi RS Q8 will be tough competition for the likes of the Lamborghini Urus and Porsche Cayenne Turbo. It's certainly impressive and will appeal to those in the market who are after a luxurious, spacious SUV with sports-car-like performance. If you can get past the eye-watering price tag of the RS Q8, it's definitely one to watch but whether it can knock the extremely popular Urus from its top spot only time will tell when it's launched in the UK in the upcoming weeks.
Pros 'n' Cons:
• Styling √
• Interior √
• Handling √
• Price X
• High CO2 Emissions X
Fast Facts:
(Audi RS Q8)
• Price: €127,000 (approx. £110,000)
• Max speed: 190mph
• 0-62 mph: 3.8seconds
• Range: 23.3MPG
• Engine layout: Twin-turbocharged 4.0-litre V8 petrol
• Max. power: 592bhp
• CO2: 277g/km
Interested in buying a used Audi? click here.
First Drive: All New Audi TT Roadster
For more CarCliq Reviews, click here.