The chief executive Sir James Dyson sent out the all-important email that a team secretly had been working on plans for an
all-electric vehicle
for more than 2 years with hopes to launch the first model by the year 2020. Ever since 1990, Dyson had been interested in developing filtration technology to stop vehicle
diesel
emissions polluting the environment, therefore this struck up the idea of developing an electric car. The company have committed to spending a colossal total of £2bn to develop a solid-state battery technology to power the vehicles. Dyson said he intends on spending about £1bn developing the car, with another £1bn on making the battery.

All in all, there are four hundred engineers already working attempting to embark upon this huge project at its global headquarters in Malmesbury, Wiltshire. Dyson is recruiting rapidly to expand the workforce behind the project. Although they have 3,500 already employed in the UK, this is set to rise dramatically by doubling in the coming four or five years. Nevertheless, the car does not yet exist, with no prototype built, and a factory site is yet to be chosen to allow the project to commence.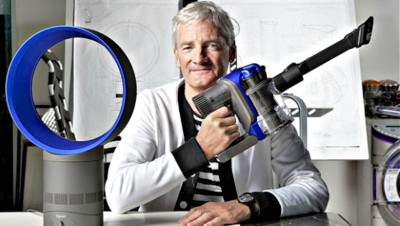 When Sir James set out his email to his employees, he said "my ambition is to find a solution to the global problem of air pollution… We finally have the opportunity to bring all our technologies together into a single product… Rather than filtering emissions at the exhaust pipe, today we have the ability to solve it at the source".
The firm owner stressed the importance that all employees at Dyson must keep all details of the car highly confidential, due to the increasing competition of new technology in the automotive industry, even though, many existing automotive companies are also making the move towards electric vehicles. For instance,
Volvo
announced that they intend to implement a similar plan from 2019 to have all models to either be
electric
or
hybrid
.
This trend of the electric car arose when the Government established plans to ban the sale of new diesel and petrol cars in the UK from 2040, therefore the ending goal to be to get both two transmission types to be off the roads by 2050.
For more CarCliq News, click here.