Seat's first SUV had to be a good one and the Ateca has delivered the goods! Its combination of style, space, quality, driving enjoyment and value has earned it popularity since its release. It shares a lot with the new VW Tiguan but is smaller sitting on the same wheelbase as the five-door Leon. It's up against a number of rivals such as the Nissan Qashqai, Volkswagen T-Roc and Renault Kadjar.
The base model engine is a 1.0-litre three-cylinder turbo petrol which is a refined and willing engine in smaller hatchbacks but struggles in a family-sized SUV; however the low list price will stand out to buyers. The sweet spot of the range is the refined 150bhp 1.4 turbo petrol engine. If you're looking for 4-wheel-drive (since all the petrol options are front-wheel-drive) and better economy the 2.0-litre diesels feel almost as lively despite being heavier. This rather noisy 2.0-litre diesel comes in 150bhp manual or 190bhp seven-speed DSG variants. The current Ateca range comprises S, SE, SE Technology, Xcellence and FR models. Seat's performance sub-brand Cupra also has a range-topping Ateca featuring a 300bhp 2-litre petrol engine, 4Drive 4WD and bespoke suspension settings tuned by SEAT's motorsport division. Not every engine is offered in every trim, but there's enough crossover between trims, drive systems and powerplants to ensure there's an SEAT Ateca to suit your budget.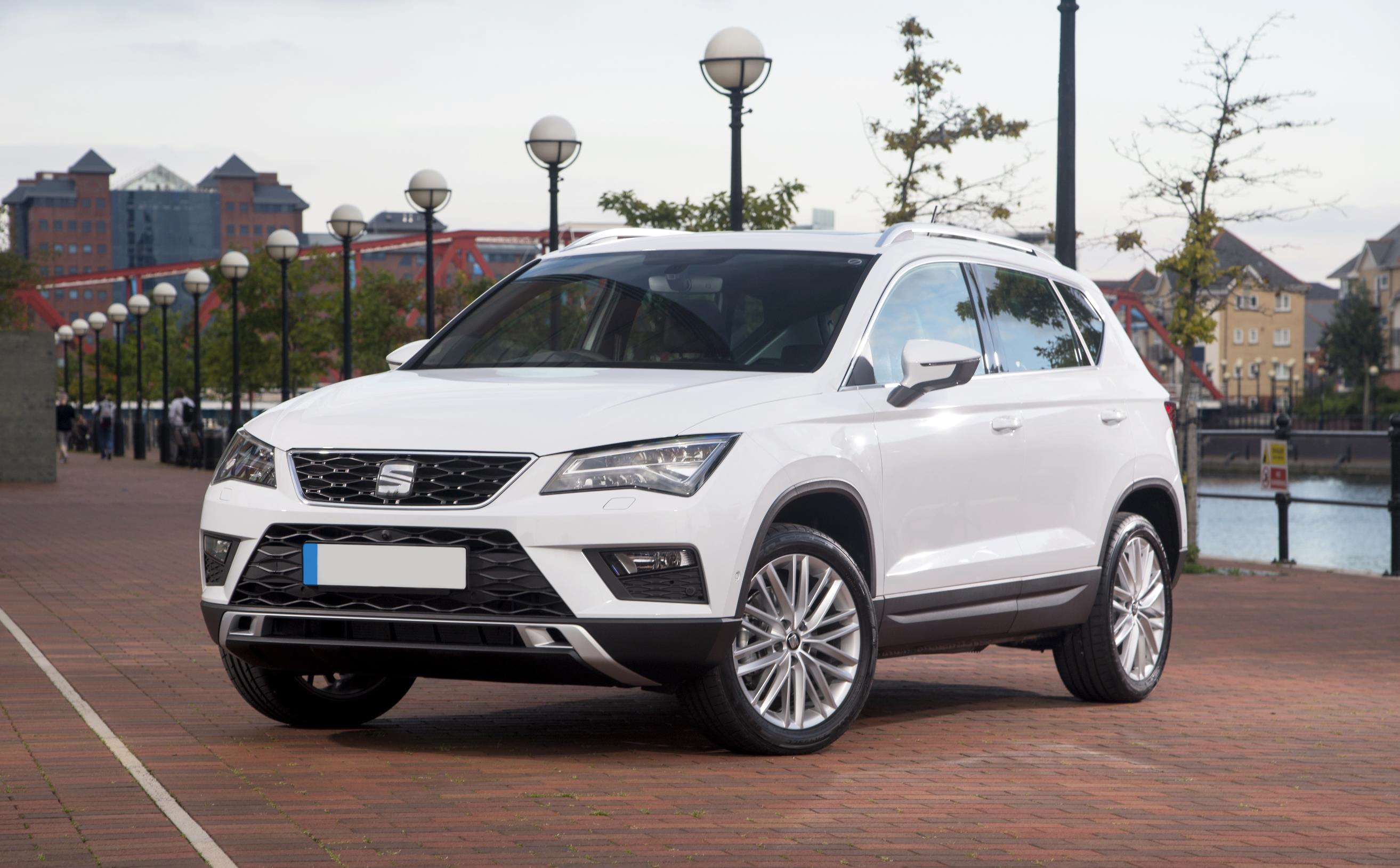 The Ateca feels just like a jacked-up Seat Leon with the raised ride height and high seating position. After just a few corners you realise the Ateca is a sportier crossover with handling is near top of the class. The FWD Ateca corners securely without too much roll when you throw it through corners while the 4WD versions are even more precise around bends since they get different rear suspension alongside the extra traction. The steering has a nice weighting and a great connection to the road but the firmer suspension set-up means you feel more from the road surface when on the move; especially on country roads.
On the inside the cabin is neatly designed matching the exterior with straight edges and angled corners; not unlike the Leon family hatch in fact. Those who go for an entry-level model will be disappointed by the fact that their SEAT Ateca will only come fitted with a tiny five-inch display (with no navigation option) that looks rather small on the dashboard. From mid-level trims upward the infotainment screen is big, logical and well-stocked with features including mirroring for your iOS or Android device and wireless charging. The system used in the Ateca will be familiar to anyone who has been in a Skoda, VW or SEAT before being very intuitive to use and can be operated by the dials on the dashboard or with the touchscreen itself. Space is competitive against rivals with ample room for passengers in the front and back and noticeably more headroom that the Leon. The boot is also big and practical with 510 litres of storage with the seats up; which is 80 litres more than the Nissan Qashqai!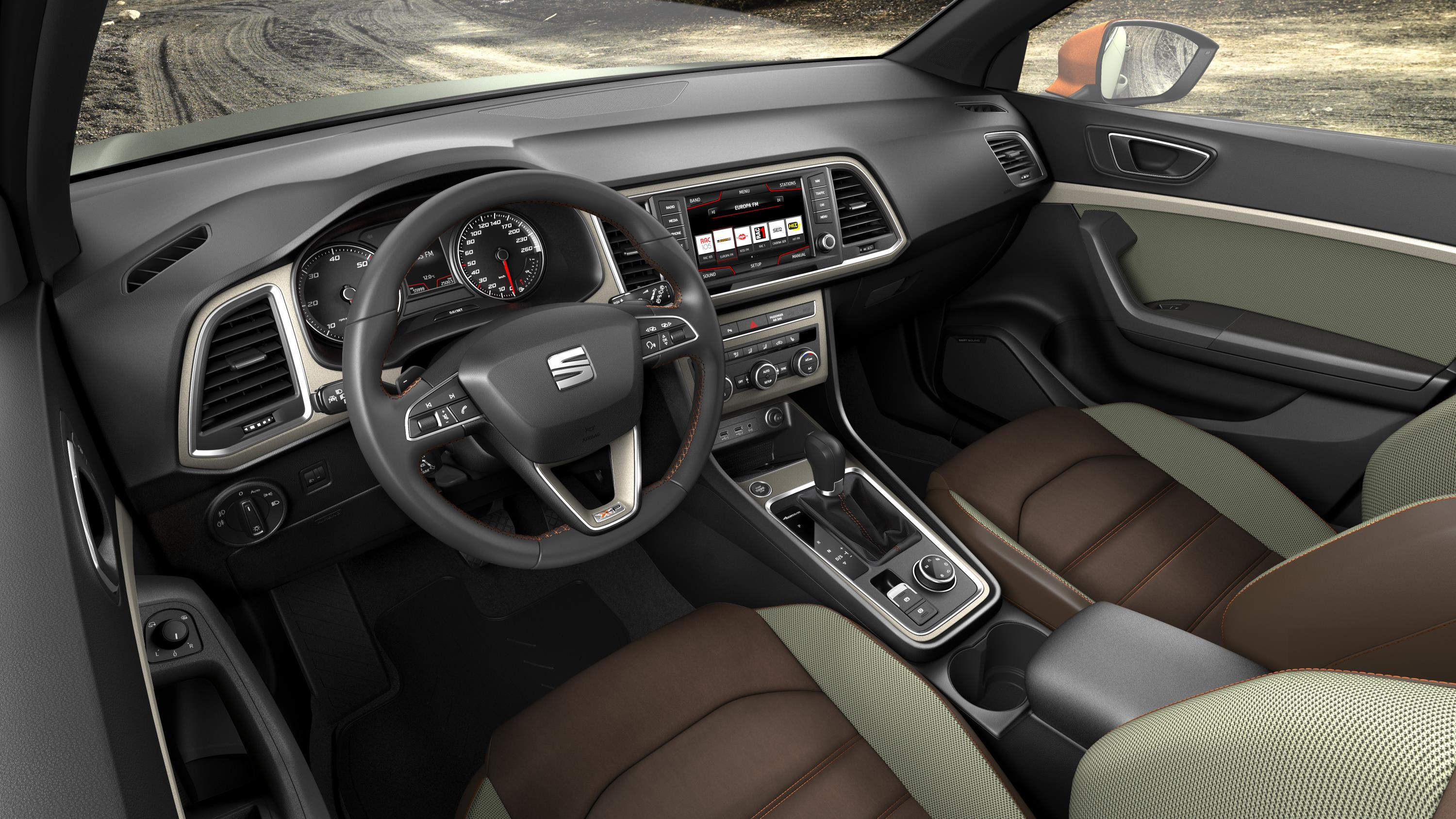 The Spanish brand's sharp design language ensures that the SEAT Ateca is one of the smartest-looking cars of the crossover market. There's a wide range of punchy and efficient engines and a well-tuned chassis making the Ateca one of the best in its class to drive. A lack of kit for the cheapest models and slightly dull interior may deter some, but there's impressive space on offer perfect for a family car or just general daily driving. The availability of front or four-wheel drive also gives the Ateca all it needs to be a front runner in the crossover class ahead of the competition.
Pros 'n' Cons
• Styling √
• Performance √
• Price √
• Ride Comfort X
• Diesel Variants are Noisy X
Fast Facts
(Seat Ateca 1.4 EcoTSI SE 5dr)
• Price: £23,370
• Max speed: 125 mph
• 0-62 mph: 8.5 seconds
• Range: 53.3 MPG
• Engine layout: 1.4-Litre Petrol
• Max. power: 150bhp
• CO2: 122g/km
Let us know what you think about our SEAT Ateca review via our social media channels.
Interested in buying a used Seat Ateca? click here
Read more CarCliq Reviews on SEAT cars:
For more CarCliq Reviews click here