If you're the passenger or the driver on a long or short journey – both ways are safe in terms of driving when pregnant, but there are considerations to keep in mind to ensure you have a safe and comfortable trip.
We at
CarCliq
tell you our top tips for when driving whilst pregnant.
Is it safe to drive whilst I'm pregnant?
During your time being pregnant, both yourself and your baby's health is the most important thing. Therefore, if you're both in great health it's okay to carry on driving.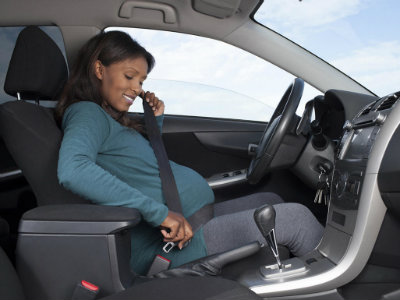 Although, as you approach your final months of being pregnant, we suggest you consider not driving as often, as it may become a struggle to get in and out of your car and your bump may get in the way of your steering wheel. If you are in desperate need of getting somewhere, take advantage of friends and family and arrange for them to drive.

Also, it's worth considering the side effects of pregnancy and how they can affect your driving. In your first trimester, you may be experiencing common symptoms such as tiredness or nausea, which can affect your concentration – therefore, we advise you to take regular breaks and to only drive when you feel at your best.
What can I do to stay comfortable when travelling by car?
Stretches

This is to keep your blood circulating, as sitting for a long duration can be difficult when pregnant because it can cause your feet and/or ankles to swell, your legs cramp or you could experience heartburn.
By performing a bit of movement, you can alleviate the discomfort, such as if you're sitting in the car: extend your leg heel and gently flex your foot to stretch the calf muscles, also rotate your ankles and wiggle your toes.


Regular breaks for every 90 minutes of travel

This allows you to rest or have a well-deserved (and very much needed) toilet break!


Keep hydrated and pack some healthy snacks with you

Ensure your energy levels are up, so if you are driving this will reduce drowsiness and make sure you've got your full attention on the road.


Wear comfortable clothing and footwear

We suggest something loose and flowing, as there is nothing worse than having a tight waistband digging into you.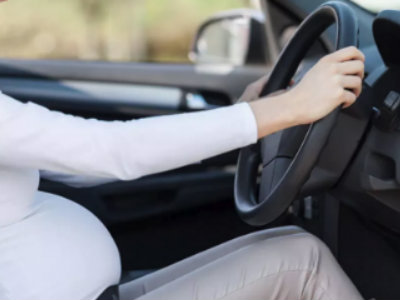 Do I have to wear a seatbelt when I'm pregnant?
When travelling in the car, it is still a legal requirement to have your seatbelt on regardless if you're in the front or back seats. If worn correctly, it will help protect you and your baby from harm in case you or the driver must perform a sudden stop or accident.
The best seat belt is the three-point-one, and when worn you wear the lap part of the strap so it fits across your thighs and hips, placing it underneath the bump – and never across your stomach as it can put unnecessary pressure on the baby. The diagonal shoulder part of the belt should be positioned over your collarbone and between your breasts, so it should rest nicely against your shoulder rather than your neck.
If you're still experiencing discomfort, look at buying a seat belt pad.
To conclude, if you're driving whilst pregnant and you are in a car accident, make sure you get checked out by a doctor regardless of if you feel fine. Although if you experience any contractions, pain or bleeding, see a doctor as soon as possible.
For more CarCliq guides click hereWant to know how to fit a child car seat? Click here