Many
cars
nowadays are being labelled as "connected cars", but do we know what this term means? Connected cars are part of "the internet of things" (IoT), which is used to describe everyday objects that can be connected to the internet for beneficial reasons, whilst also giving you the opportunity to control these objects remotely (often via an app on a smartphone), which will communicate with each other.
Although this all sounds quite simple, when applying this software to modern cars it becomes far more complex; an integral part of modern day life and road safety.
What are connected cars?
These are connected to an external network e.g. this could be connected to your phone via Bluetooth, connected to GPS with its own dashboard Sat Nav system, or connected to the internet, from an internal SIM. Although, in most cases, cars that have their own internet connection, commonly via an embedded SIM card to remain online or 'connected' always.
With this feature, this gives you additional functionality and the ability to communicate with your car (even when you are not with it). The benefits that this software provides is endless, which is why many manufacturers are continuously investigating new ways to implement this technology more and more in the future.
When were connected cars first introduced?
Despite only recent advancements making the press, connected cars are nothing new.
These first appeared 20 years ago in the United States when General Motors worked with Motorola to introduce its first version of OnStar in the 1996 Cadillac DeVille, Seville and Eldorado. As you can imagine, the first system was very basic, with the user just being able to connect the driver to a call centre in the case of a crash that triggered the airbags. Technology soon advanced, which allowed the call centres to view the car's location using GPS.
The most recent use of IoT in cars was in 2016,
Audi
and
Ford
had debuted a system that allows cars to communicate with traffic lights and plan routes across cities without being delayed by red lights – we certainly need this for when we're sprinting out the front door late for work.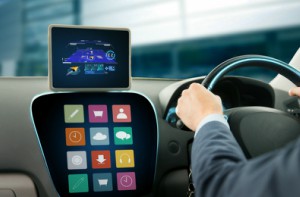 The current types of connected cars
Single-vehicle applications – these are featured on most connected cars on the market now. It includes smartphone integration, roadside assistance, parking apps, remote diagnostics and voice commands. Apple CarPlay and Android Auto also come under the single vehicle applications banner.
Cooperative safety-of-life and efficiency – all advanced driver-assistance systems come under this category. These systems rely on vehicle-to-vehicle communication as well as communication with the road infrastructure and are in their early stages of development. This is largely due to the legal framework required to enable the systems to work around the world.
Can hacking become an issue?
Critics have suggested that there is an increased risk of hacking connected cars, which would clearly be its biggest flaw. Any device that is connected to the internet has the possibility of being compromised, and this includes anything with the most advanced security software too.
One incident occurred in 2015, where hackers took control of a Jeep in use. They first turned the aircon on to its maximum setting, before changing the radio station and turning the wipers on. Finally, they completely disabled the car's engine.
However, car manufacturers are attempting to overcome this barrier and stay one step ahead of hackers, but it seems automotive cybersecurity will be a hugely important consideration in the future.
To conclude, what is next for connected cars?
The future of connected cars will be the development of car-to-car communication, as well as increased communication with roads infrastructure (car-to-x communication).
This will go hand-in-hand with fully autonomous cars, allowing drivers to summon a car when required and leave them to their own devices to park, or even drive long distances.
In the more immediate future, the introduction of the more stable 5G internet will be a gamechanger, allowing cars to rely on a solid internet connection to communicate with infrastructure and other vehicles.
Practical benefits, such as avoiding roadworks and dodging crashes by being aware of other vehicles.
By joining the 'internet of things', connected cars will be able to detect what mood you're in when getting into the car. They'll be able to play appropriate music and turn the heating on ready for you arriving home.
For more CarCliq Guides click here.