When it comes to SUVs of late, they need to be a bit of an all-rounder; practical enough to handle the school run and daily commute while offering comfort and safety, complete with an abundance of technology to keep up in this modern day and age that we live in. The Volvo XC60 does just that - it's hardly surprising that it's one of the Swedish brand's bestselling models, however medium-sized premium SUVs are in high demand, meaning the XC60 has lots of competition from the likes of the Audi Q5, BMW X3, Mercedes-Benz GLC and Jaguar F-Pace when it comes to standing out in such a comprehensive class.
The XC60 sits between its XC40 and XC90 siblings in the SUV range, but in a nutshell is a smaller, 5 seat version of the XC90, sharing the same platform and many of the same engines as that of its sibling. The engine line up is rather extensive, with a variety of petrol, diesel and hybrid options available. The XC60 range starts with 187bhp 'D4' diesel or 'T4' petrol option that will accelerate from 0-62mph in 8.4 seconds and 7.9 seconds. Moving up the range to the 194bhp 'B4' and 242bhp 'B5' diesel and 247bhp 'B5' petrol engines use mild-hybrid technology to cut emissions and boost fuel efficiency. While at the top of the range, there's the supercharged and turbocharged 306bhp 'T6' petrol and 385bhp 'T8' petrol plug-in hybrid as well as a 399bhp 'T8' Polestar engineered model. All XC60 variants only use 2.0litre engines and come with eight-speed automatic transmission, so those in the market for a manual SUV will need to look elsewhere.
In terms of handling, the steering on the XC60 is light and responsive, navigating through city streets with ease, while the four-wheel drive models provide the traction needed on the more rural roads and lanes. However, the XC60 isn't as driver focused as BMW X3, Jaguar F-Pace and Audi Q5 rivals that offer tighter body control and more direct steering. On the road, the Volvo XC60 offers a comfortable and quiet ride with the standard fit suspension doing well to absorb small bumps in the road. However, on the more scarred and potholed roads the effects can be felt throughout the cabin, with the problem only exacerbated on the larger alloy wheel options that are available. There's also the option of air suspension that maintains the overall comfort and composure of the XC60 but isn't quite as comfortable as the Mercedes GLC, while the air suspension on that of the Q5 remains one of the best riding cars in the class.
As for noise, the XC60 is rather refined regardless of which engine setup you go for; the diesel engines emit a low background rumble that's only noticeable when accelerating hard from a lower speed while the petrol engines are slightly noisier. However, go for the electric 'T8' and it's almost silent when running on electricity alone. At motorways speeds the XC60 remains relatively quiet, generating only a little bit of road noise but there is some wind noise from around the door mirrors and, while not as peaceful as a Q5, does little to impact any conversations that may be going on inside the cabin.
Inside, the XC60 is a rather comfortable place to be, it's stylish but very minimalistic and uncluttered – there are no buttons taking over the dash, instead every aspect of the car from the sat nav to the stereo is controlled through the XC60's central touchscreen. However this will take some getting used to and can be rather distracting when behind the wheel. The XC60 is available in four trims; Momentum, R Design, Inscription and Polestar Engineered but regardless of whether you go for the sportier R-Design or luxurious Inscription, entry-level models are still well equipped with a heap of tech fitted as standard from hill hold assist to parking sensors and sat-nav. All models come with aluminium interior trims and partial leather seats while top of the range Inscription and Polestar Engineered versions get full leather upholstery. Space in the front is generous so even the tallest of drivers shouldn't have any complaints regarding head and legroom. Passengers space is also rather roomy, the XC60 is broader than many of its rivals so there should be plenty of space to seat three adults comfortably in the back. Boot space, while decent, falls short compared to some of its rivals. With a capacity of 505litres, this will be more than enough for most families but compared to the likes of the Q5 or X3, the XC60 is down 10%. However, there's no awkward loading lip to navigate when manoeuvring large items in and out of the boot and the rear seats fold completely flat should you need more space.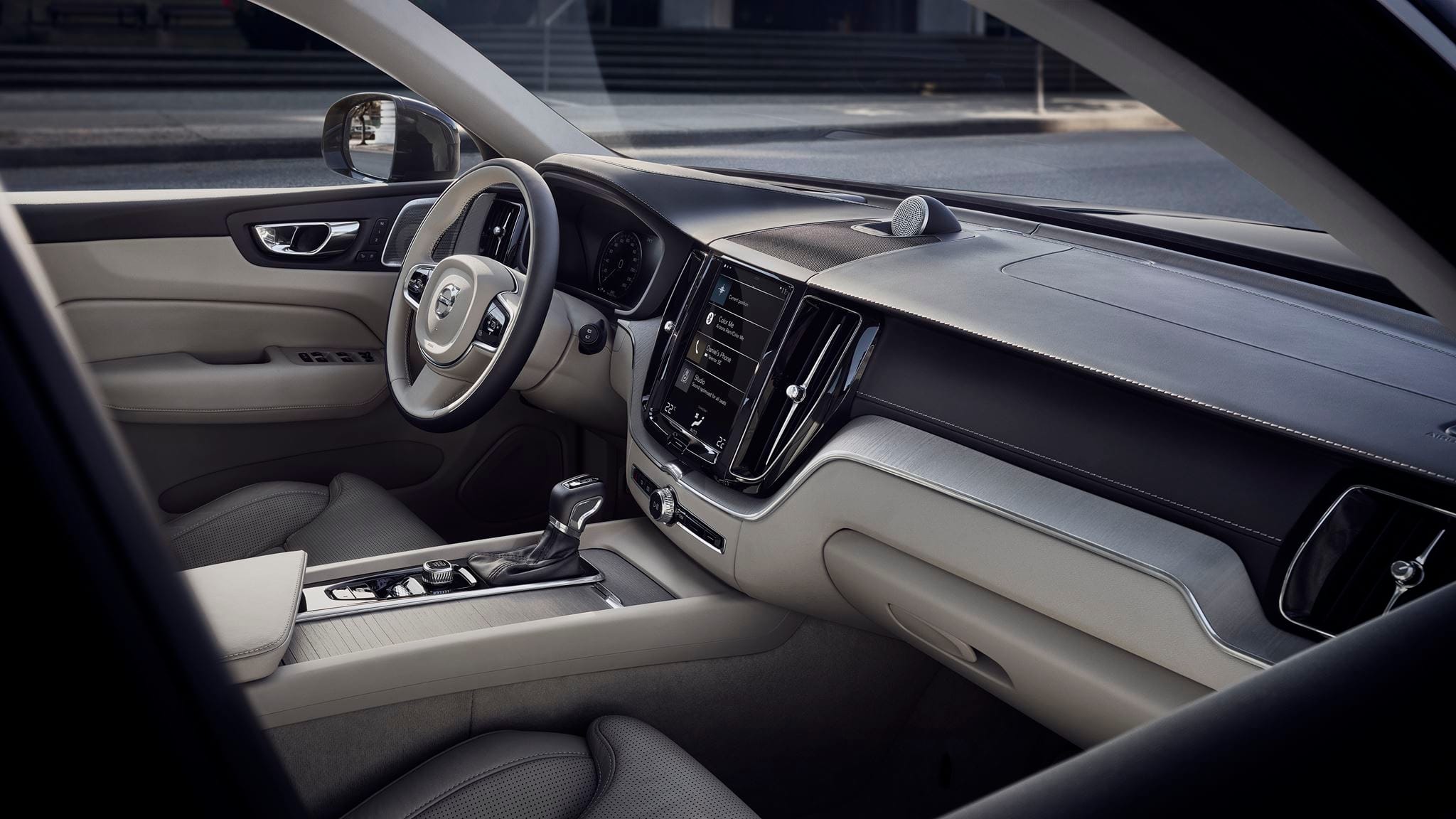 Should you buy one? In an extremely popular class, the Volvo XC60 does well to stand out amongst other premium mid-sized SUVs. It's one of Volvo's bestselling vehicles and with good reason, it's practical and spacious cabin makes it well suited to family life. The abundance of tech and interior style add to the overall comfort and premium feel of the XC60 while the engine line up is varied enough to appeal to those that need the practicality of an SUV but are carbon conscious and want to reduce C02 emissions that the hybrid technology offers. The XC60 is priced competitively against Audi Q5, BMW X3 and Mercedes-Benz GLC rivals and is well worth considering for anyone in the market for a great family SUV.
Pros 'n' Cons:
• Engine range √
• Interior √
• Quality √
• Driver focused X
• Automatic only X
Fast Facts:
(Volvo XC60 R Design)
• Price: £43,235.
• Max speed: 137mph
• 0-62 mph: 6.9seconds
• Range: 36.2mpg
• Engine layout: Four-cylinder turbocharged mild hybrid petrol
• Max. power: 247bhp
• CO2: 165g/km
Interested in buying a used Volvo XC60? Click here.
Other Volvo Reviews that might interest you:
Volvo V60 Cross Country Review (2019)
For more CarCliq Reviews, click here.