While the Nissan Juke was originally designed as a small SUV and an alternative to conventional small cars such as the Ford Fiesta and Volkswagen Polo, Nissan retains the distinctive look of the Juke but adds more space, smarter looks and extra equipment to this second generation version.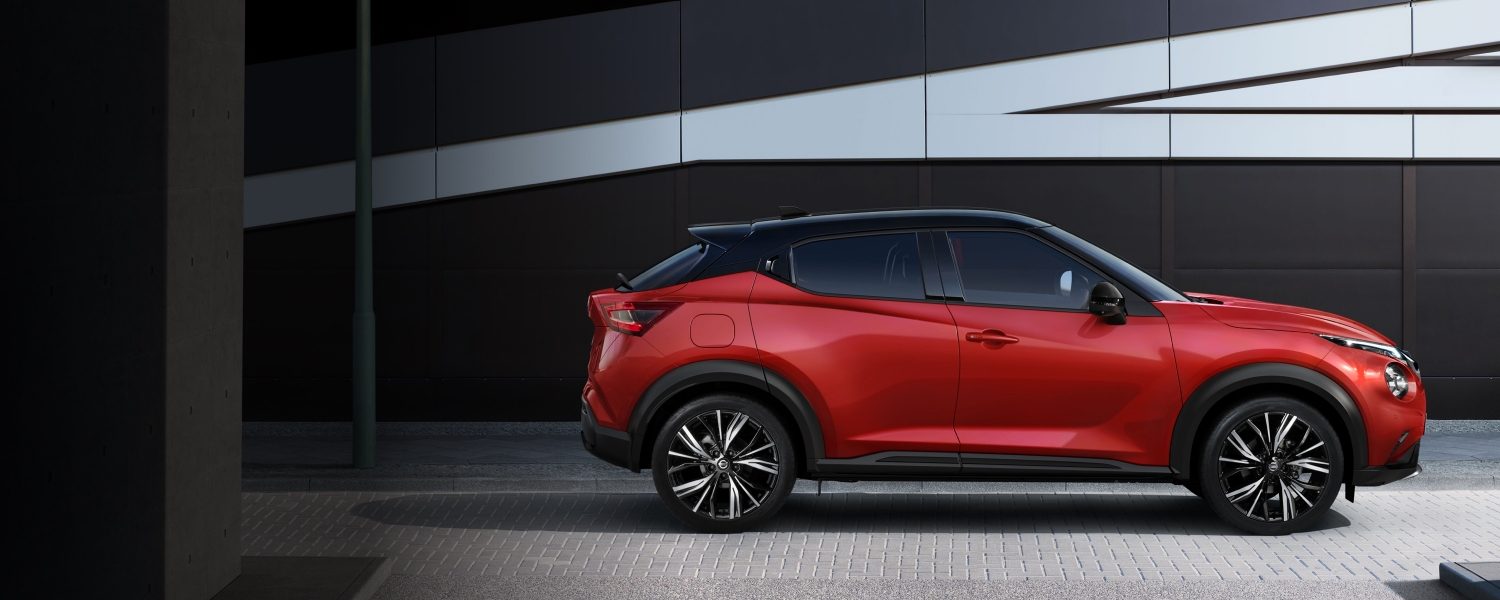 At present, the Juke's only engine choice is a 115bhp, 1.0Litre turbocharged three-cylinder petrol engine, but it's expected that the line-up will eventually expand and may even see a plug-in hybrid version added. The new model will be fitted with either a six-speed manual gearbox or an all-new seven-speed dual-clutch automatic that will replace the CVT transmission that was previously offered. While the six-speed manual gearbox is a major improvement on the previous Juke, it is prone to some transmission whine that's mainly noticeable when maintaining a steady speed on motorways and such, but on a long journey this could get particularly annoying. With top speeds of 112mph, Nissan claims that the manual variant can reach 0-62mph in 10.4 seconds whereas the automatic takes a little longer at 11.1 seconds and while performance isn't outstanding, it propels the Juke along nicely enough. The new model is also more economical than its sibling, claiming a decent 45.6mph and, in Eco Drive mode, fuel economy will improve further.
Behind the wheel, the Juke corners well despite not being a sports SUV, it doesn't sway through tight twists and turns as you might expect. While the Skoda Kamiq and the Volkswagen T-Cross offer more grip on the road, the Juke's steering gives enough connection to the front wheels yet still remains light enough to navigate town driving with ease.
In terms of ride comfort it's a little firm and the suspension does pick up the odd vibration. However, with the19inch alloy wheels that come as standard on top models like the Tekna and Tekna+, as is often the case with larger wheels, don't do the vehicle any favours and you may find that when it comes to uneven roads you are jostled around much more. Logistically, the smaller 16 and 17inch alloys fitted on the Visia and Acenta should make a noticeable difference, however if it's comfort you're after then we would recommend the Volkswagen T-Cross.
While the exterior has seen minor changes to the exaggerated wheel arches and rising window line, the new model retains that quirky and instantly recognisable look that you either love or hate. As for the interior, the Juke boasts new soft-touch materials with the option of an Alcantara or leather trim available depending on the variant. The driving position has also improved with a reach-adjustable steering wheel and gear lever that now sits more purposefully on the centre console. There's also plenty of tech available across the range, with lane departure warnings and intelligent lane intervention as well as traffic sign recognition fitted as standard on the Visia and Acenta. Upgrading to the N-Connecta, Tekna and Tekna+ will gain automatic emergency braking with pedestrian and cyclist detection, blindspot monitoring and rear cross-traffic alerts that warn you of any cars about to cross your path when reversing out onto a road. In addition, there's also Nissan's ProPilot driving assistance system, that is capable of controlling the throttle, braking and steering while driving in a single lane on motorway-style roads.
Depending on which specification you choose, the Visia comes with a 4.2inch digital display screen with DAB radio, Bluetooth and USB and AUX connectivity, upgrading will see an 8inch display NissanConnect infotainment system with Apple Car Play and Android Auto for smartphones added and will come as standard across the range.
As with the original, the new Juke remains part SUV, part sports coupe and part hot hatch but is marginally bigger than its predecessor. At 4.2metres long, the Juke sits between a supermini and a small family car, meaning adults can now sit in the back comfortably due to the increased head and legroom. The boot space has also been improved, increasing in volume by 20% compared to the old Juke and now has a capacity of 422Litres and there's the folding 60:40 seat split option if you want to create even more luggage space.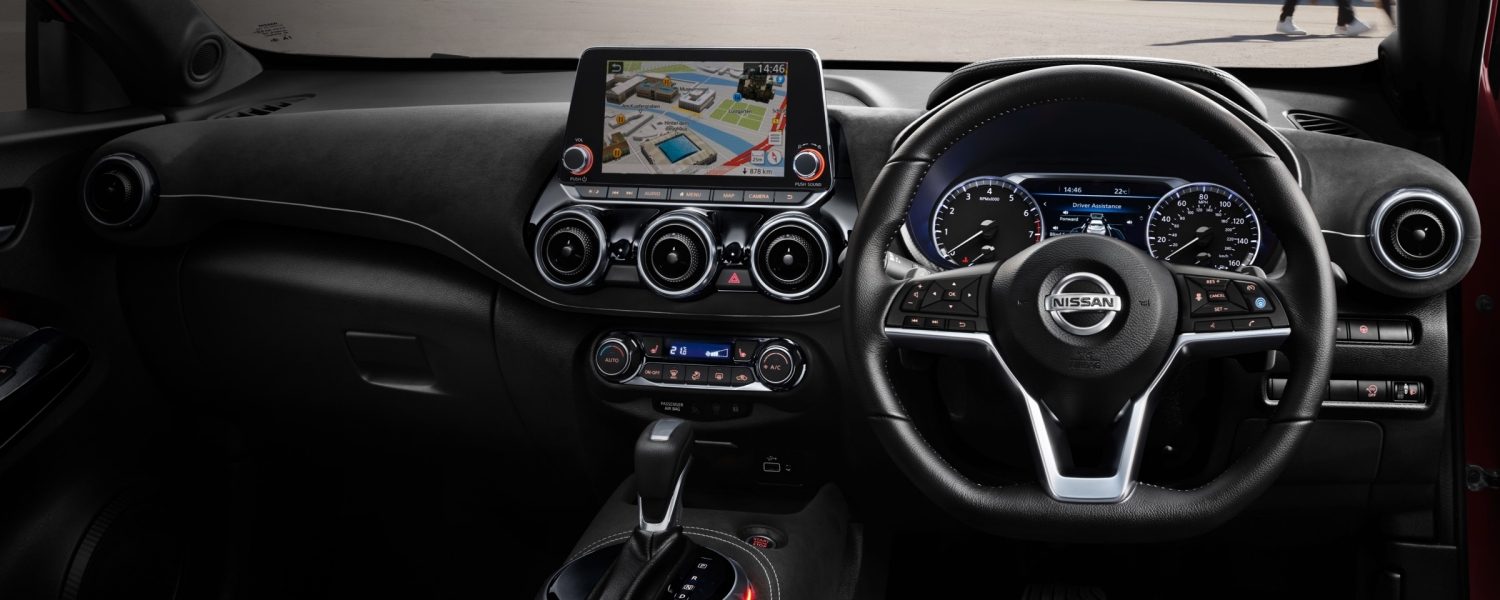 Should you buy one? The original Juke was hugely popular with the masses and sold by the bucketload and although its quirky looks aren't to everyone's liking, the new Juke certainly retains its title as a trendy compact crossover. With added space, a sleeker look, an improved interior and a reasonable starting price, it will be interesting to see how well this second generation will be received by the general public. While this is now a very crowded market to stand out in with rivals like the Renault Captur, Skoda Kamiq and Volkswagen T-Cross all vying for attention, we can't help but wonder how the new Juke will fare and if it will indeed be as popular as its predecessor.
Pros 'n' Cons
• Styling √
• Interior √
• Practicality √
• Noise X
• Ride Comfort X
Fast Facts
(Nissan Juke, 1.0 N-Connecta)
• Price: £20,995
• Max speed: 112mph
• 0-62 mph: 10.4 seconds
• Range: 45.6mpg
• Engine layout: 1.0Litre Three-Cylinder Petrol Engine
• Max. power: 115bhp
• CO2: 112g/km
Interested in buying a used Nissan Juke? click here
Other Nissan Reviews:
Nissan Qashqai 1.3 Dig-T Review
For more CarCliq Reviews click here