The biggest Mini yet; the Countryman offers more space and practicality than the Cooper hatchback, fitting into the ever-popular crossover category alongside rivals like the Renault Captur and BMW X1. From the outside, you'll notice quite a few styling choices in-keeping with this sector like the more rugged plastic wheel arches & sill protectors, the fixed roof bars and is the only Mini to have non-circular, more aggressive looking headlights. It may not be to the liking of fans of the classic Mini but it's their most XXL ever; a full 20cm longer than the first generation with five seats suitable for grown-ups and a decent size boot too!
There are quite a few versions of the Countryman to choose from with petrol and diesel Cooper and Cooper S variants available in front wheel drive or All4 four-wheel drive as well as manual or 8-speed automatic options. Alongside these, there's also the Cooper E plug-in hybrid variant which pairs a petrol engine driving the front wheels with an electric motor for the rear. Taking a look at the 2.0 Cooper S Auto variant you do get 192bhp under the bonnet but with a total weight of just over 2,000kg it never manages hot-hatch performance despite the Cooper S badge. While you do get a respectable 0-62mph time of 7.5 seconds and it sounds pleasant enough, at big revs the auto shifts up early which can be frustrating.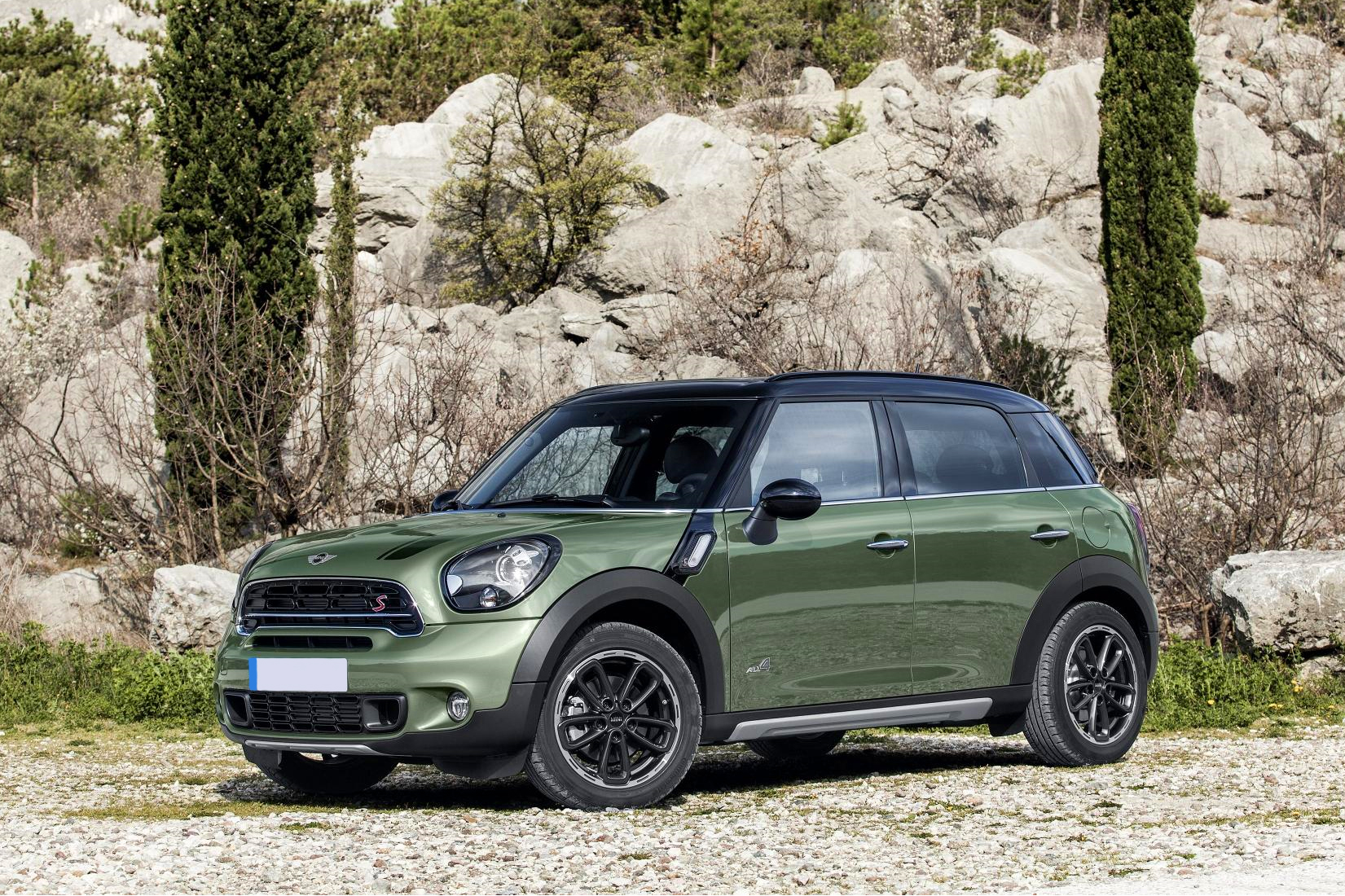 Behind the wheel, the steering even in non-sport mode is surprisingly heavy; but it's geared sensibly and weights up off-centre appropriately. It tracks well on a motorway and goes into corners willingly enough but you do get quite a bit of understeer; even in slow bends. The suspension manages to absorb big bumps decently enough, but it gets quite busy on easier surfaces that should be smoother. Despite some tyre roar on bad surfaces, the Countryman is among the more refined cars in its class, with excellent isolation from wind and engine noise. The Countryman will also cope well if you choose to venture off the beaten track; with decent tread on the tires and thanks to the boosted ride-height you'll be more than capable of tackling any muddy or even terrain!
Sticking to the usual Mini cabin design you get quite a large central circular infotainment system with either BMW's iDrive controller or an optional touchscreen. As usual for a Mini, the driving position is terrific, setting the pedals and steering wheel in perfect alignment. Seats and wheel adjust are plenty too with an electric memory option. The speedo stands above the steering column, adjusting up and down as it goes. While it's just about big enough, the rev-counter is stupidly small and the needle has a short arc much like a fuel gauge. The rest of the interior is set into high-grade plastics with a number of custom trim options available; you can even get multi-coloured LED interior mood lighting. In the back there's class-leading room able to seat adults with comfort and a decent boot capacity of 450 litres; there's even a sliding 60:40 seat split option if you want to maximise room for luggage.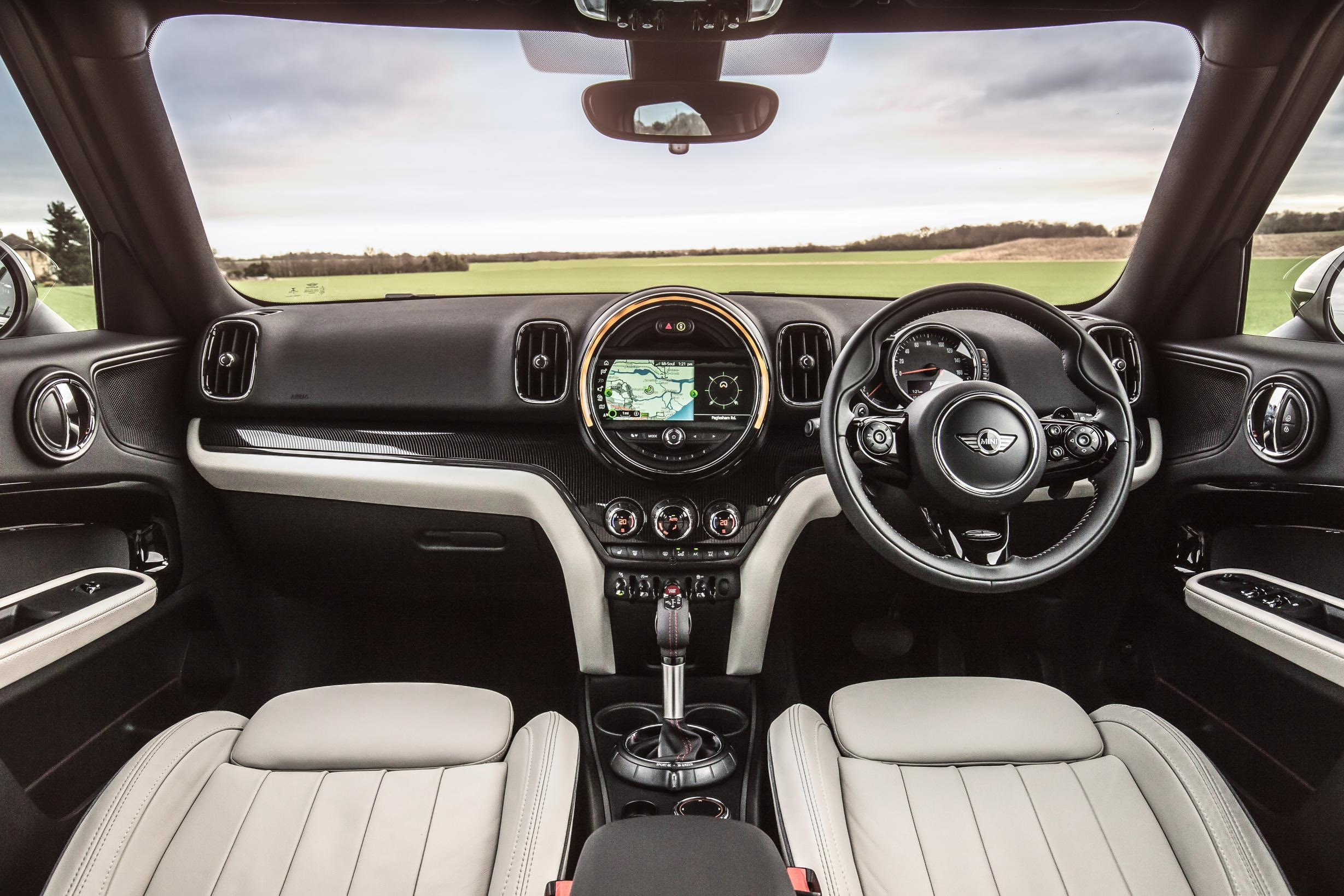 Should you buy one? The Countryman is a sophisticated piece of engineering, with a solid feel and precise driving manners. While it handles decently the ride is as good as can be expected for a small crossover. Performance is refined, rather than electrifying and there are a good range of engines and a hybrid option available to suit every need; of the range the petrol options are lighter and smoother so be sure to look at those! Inside is a nice place to be, with the interior combining flamboyant design with very sound ergonomics. Crucially it's roomy, both in the seats and the boot. Compared to rivals the price sits on par with the premium BMW X1 however of course it is quite a lot more than other competition like the Renault Captur so consumers will need to weigh up if the refinement of the Countryman is worth the extra outlay.
Pros 'n' Cons
• Styling √
• Interior √
• Practicality √
• Price X
• Ride Comfort X
Fast Facts
(Mini Countryman 2.0 Cooper S)
• Price: £27,825
• Max speed: 140 mph
• 0-62 mph: 7.5 seconds
• Range: 47.1 MPG
• Engine layout: 2-Litre 4-Cylinder Petrol
• Max. power: 192bhp
• CO2: 130g/km
Interested in buying a used Mini Countryman? click here
Other MINI Reviews:
For more CarCliq Reviews click here