Bringing back a name from the 1980s the Fiat Tipo is a compact hatchback on offer for drivers who want a bit more space than the 500 range provides. There are 5 different variants of the Tipo to choose from with 4 hatchbacks (Hatchback, Street, Mirror & Sport) and 1 estate variant the Station Wagon. The Tipo trim range is then also structured in a simple way, with straightforward price rises between grades. The entry-level 1.4 95hp Easy hatchback starts at around £15,000, with the Easy Plus adding bonus kit for around £600 extra. Higher spec Lounge trim is £2,000 more than Easy, while sporty S-Design is another £1,000 on top of that. With all these model variants, trim levels and engine/transmission options there is quite a lot of choices (around 40 different spec options)!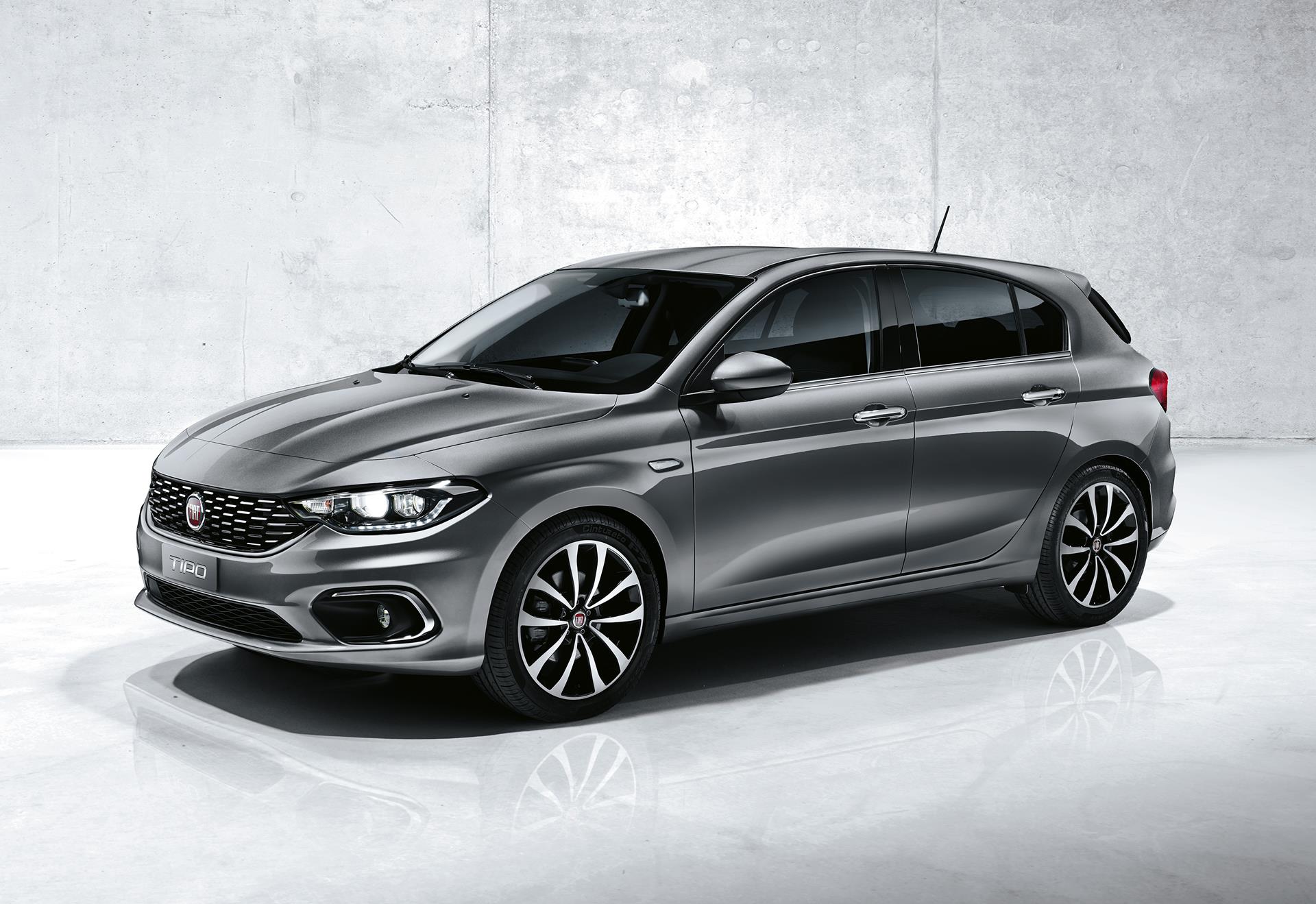 Choosing the Hatchback Easy Plus variant, the 1.4 T-Jet is the petrol engine option we'd select because of its better responsiveness despite being slightly thirstier than the naturally aspirated option. There's more torque from lower revs, and with 120bhp on tap it's sprightly enough to keep pace with in-town traffic. However when motorway speeds are required you may find it a little sluggish with quite a slow 0-62mph time of 9.9 seconds. The ride comfort is good enough for what most people need from a reasonably priced hatchback; big bumps are dealt with acceptably but smaller niggles fidget the car and rattle around the cabin. For everyday use it's fairly economical at 39.2MPG with naturally aspirated and diesel engine options having higher ranges.
While the Fiat Tipo focuses on price, it hasn't cut corners with its styling. Taking design cues from the brand's now scrapped 124 Spider, the car gets a wide grille, chrome details and double-bubble roofline that all give the hatchback presence on the road. With the relatively attractive exterior design, there's a risk that pennies could have been pinched inside, but the Tipo's cabin just about stands up to scrutiny, but the quality of the materials is only really acceptable at best, as harder plastics dominate most areas. A TomTom-based sat-nav system is fitted having live traffic updates, but the screen is on the small side, so it's not as easy to see any detail as it is in rivals. The standard climate control and reversing camera is a nice touch, and it's good enough for parking with, while the buttons around the unit mean it's easy to use when you're driving.

It's easy to see where the Fiat Tipo's versatility comes from, as the upright tailgate helps to maximize boot space, given the car's relatively compact overall proportions. Practicality is a strong point with a good driving position and visibility is as good as any of its rivals. There's plenty of legroom and head room in the front and back seats, although in the hatchback version rear seat passengers who are particularly tall might find their head brushing the roof. The estate Station Wagon's design is very similar to the hatch, but with the obvious extended roofline to make the boot bigger and adding headroom in the back seats too. For a compact five-door hatch, the Tipo's 440-litre boot should be more than enough to carry day-to-day luggage; it can easily swallow a family of four's belongings. The estate gets 110 litres more, with a 550 litres of storage with the seats up and a 60/40 split with both body styles for folding the seats down.
Overall the Fiat Tipo is a well-rounded budget hatchback that's spacious and practical for everyday use. The styling is attractive but the performance and interior feel may leave some drivers wanting more. If you're looking for a cheap family car, certainly give the Tipo a look but for higher specifications rivals such as the Skoda Rapid and Vauxhall Astra can be better value for money.
Pros 'n' Cons
• Styling √
• Price √
• Performance X
• Interior X
• Ride Comfort X
Fast Facts
(Tipo Easy Plus 1.4 T-Jet)
• Max speed: 124 mph
• 0-62 mph: 9.9 seconds
• Range: 39.2MPG
• Engine layout: 1.4-Litre Turbocharged Petrol
• Max. power: 120bhp
• CO2: 160g/km
• Price: £16,290


Let us know what you thought about our Fiat Tipo review via our social media channels.
Interested in buying a used Fiat Tipo? click here
Read Additional Fiat Reviews Here:
• Fiat 500l Multi-Purpose Wagon MPW


For more CarCliq Reviews click here