The
BMW
M5 badge has been an iconic symbol for around 30 years now, and over that time it has built up a significant reputation. Throughout its reign, it has been the benchmark for many manufacturers for the supersaloon class, although
Mercedes
brought out the Mercedes-AMG E 63 S last year.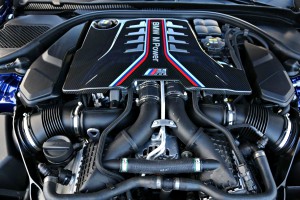 However, this year BMW has made a comeback with the sixth-generation
BMW M5
which has arrived in the UK, and it's ready to show the
E-Class
who's the true boss in the saloon segment of the automotive industry.​
What's it like underneath the bonnet?
In terms of the M5's engine, it's got a new 4.4-litre twin-turbo V8 with 592bhp and 750Nm of torque and a new eight-speed automatic gearbox. If you're an M5 fan, you'll know this is a big step up from the previous model and a worthy competitor to challenge the E 63. BMW has revolutionised and dipped their foot into four-wheel drive, after decades of rear-drive only models. This means the car can go from 0-62mph in just 3.4 seconds; we can confirm that the acceleration is as incredible on the road as it looks on paper, too.
What's the BMW M5 like to drive? It's worth mentioning that now the power is sent to the front wheels, which adds off-the-line traction and means there's a bit of extra security in bad weather conditions. Although, the transition from rear-wheel drive to four-wheel drive may let some of you thrill seekers down, however, you'll be pleased to know this doesn't affect the driving experience. When driving the M5, it feels like a rear-wheel drive car, but there's extra support from the front wheels when needed.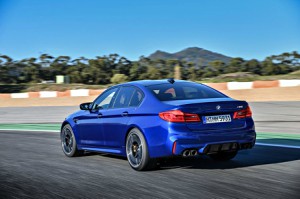 When steering the BMW M5, it's a shame the steering is quite light and short on feedback, despite its heavy and big exterior, it feels agiler than you'd presume. There are selectable driving modes, this means you can add weight to the steering you want, but it does feel artificial.
There are three modes to choose from, these being: 4WD, 4WD Sport and 2WD modes. The difference that you'll see from these selected modes are that the M5 gets progressively more driver-focused as you toggle through them. We do advise that the third mode – 2WD, is only used for track use, as 592bhp can be a lot of power being sent to just the rear wheels.
You also have the option of choosing from three modes each for the steering, suspensions an engine – these become progressively sportier too. There are six different gearbox modes you can play around with, simply through a switch on the shifter: three for automatic mode and three for sequential manual shifts.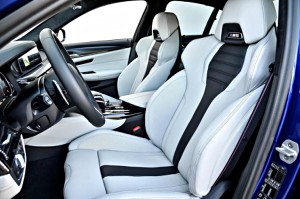 What's the BMW M5's interior look like?
It is no shock there is no decrease in the level of luxury an M5 can deliver to its driver. It is fitted with Merino leather upholstery, heated electrically adjustable front seats, quad-zone climate control, digital instrument cluster, wireless phone charging, Wi-Fi preparation and a head-up display.
So, is the BMW M5 the right car for you?
It truly is a tremendous car, it can do it all; from conservative and refined to rewarding and poised. There is a lot of sophisticated technology within the model and delivers an amazing driving experience for both the conservative and thrill-seeking motorist. The only downside is its price; however, we see this model as a worthy investment with what it can provide for you.
Facts about the BMW M5:
Price - £87,160
Power/Torque – 592bhp/750Nm
0-62mph/Top Speed – 3.4 seconds/155mph
Economy/CO2 – 26.9mpg/241g/km