Ford's latest generation Focus steps up its game with improved practicality, ride comfort and interior space, vying for the top position in an area of the hatchback market that's highly competitive. Taking on firmly established rivals such as the Volkswagen Golf, Vauxhall Astra and Honda Civic, the Ford Focus is intended as a practical, competitively priced, family car and should be shortlisted by any buyer in the market for a new hatchback.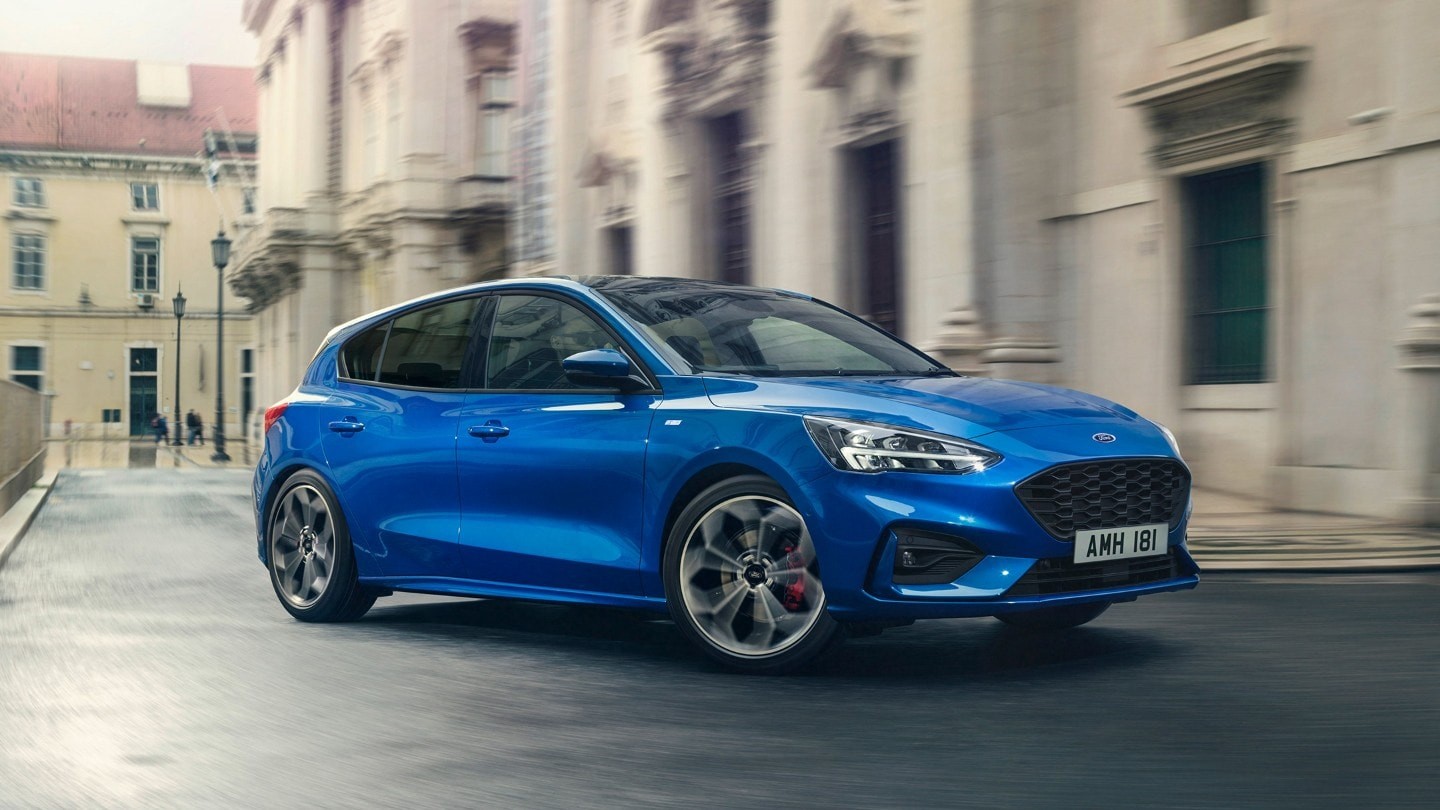 Under the bonnet there's a variety of petrol and diesel engines on offer with Ford's 1.0-litre three-cylinder petrol engine available with three different power outputs; 84bhp, 99bhp and 118bhp, with the entry level 84bhp version accelerating from 0-62mph in 13.9 seconds, eventually reaching a top speed of 109mph. Upgrade to the 99pbh version and the Focus' 0-62mph time improves taking 12.5 seconds and will reach top speeds of 114mph while the most powerful 118bhp engine has the ability to accelerate from 0-62mph in 10.3 seconds, with a top speed of 123mph. The three-cylinder 1.5 petrol on the other hand, comes with either 148bhp or 180bhp and for those after a diesel engine, is the option of a four-cylinder 1.5 engine with 94bhp and 118bhp power outputs or a 2.0-litre diesel engine that produces 148bhp with an 8.7 second time from 0-62mph and a top speed of 129mph.
In terms of handling, the Focus is perhaps one of the best handling cars in the medium-sized hatchback range. The steering is well weighted; although this can be changed in the drive mode selector, but it's also sharp and accurate too, being quick to respond when navigating through town and retains its composure when it comes to motorway driving. The well balanced chassis means even the bumpiest of Britain's roads won't be able to unsettle the Focus too much. You will find that the Focus will be slightly firmer than the Volkswagen Golf, regardless of which version is opted for, but it still remains far more comfortable than the Skoda Octavia. However, have the Focus fitted with 18inch wheels and the ride becomes noticeably more bumpy over uneven roads which is to be expected the larger the wheels get so it's best to opt for the smaller 17inch wheels as they give the most comfortable ride.
As for engine noise, the petrol engines hum away quietly in the background while the 1.5 diesel engine does emit more of a grumble at low revs but is still smoother and less prone to vibration than the Octavia's 1.6 TDI engines. Although there's some wind noise from around the wing mirrors particularly at motorway speeds but this is fairly minimal. However, on the top spec models, noise is further suppressed with extra sound insulation, keeping the majority of road and wind noise at bay.
Visibility is relatively good although the rear pillar is rather chunky and may obstruct your view of pedestrians and lampposts when reversing. To combat this, the latest automatic versions of the Focus come equipped with updated automatic parking technology; Active Park Assist 2, that enables the vehicle to scan the space and essentially park itself with little assistance from the driver while manual models feature the regular Active Park Assist technology.
On the inside, it's clear that the Focus' cabin has received some major updates compared to the previous model, with added tech and a more user-friendly layout. The entry level Focus will see a DAB radio, Bluetooth connectivity and two USB ports with a rather basic-looking 4.2inch display screen fitted as standard. Move up the range and the trim levels improve with an 8.0inch touchscreen with Apple CarPlay and Android Auto smartphone mirroring as well as the latest Sync3 infotainment system. Sadly this is where the Focus falls short, with the system being rather slow to respond compared to those used by the Skoda Octavia and Volkswagen Golf. Satellite navigation is also added but only comes as standard from the ST-Line X models and upwards.
In the wake of many manufactures swapping the manual handbrake for an electric parking brake, Ford are no different and have elected to give the Focus an electric handbrake switch that frees up space around the centre console.
Depending on the trim selected, the interior boasts a combination of smart metallic, wood-grain or carbon-effect and soft-touch plastics but isn't luxurious enough to top the Volkswagen Golf when it comes to interior quality. While it's no Skoda Octavia when it comes to space, the Focus is generous and offers a decent amount of space in the front with adjustable seats and steering column. As for passenger space in the back, this is hugely improved compared to previous models. Rear adult passenger should be able to sit behind two adults in the front quite happily with the improved knee space and the relatively flat floor allows for passengers to stretch out more easily. Seating three adults in the back will be a squeeze on long journeys, but passengers will have more head and shoulder room than in a VW Golf or Kia Ceed. However, opting for the panoramic sunroof will cut into headroom and is something worth considering if you transport tall passengers regularly. The Focus' boot space is more than adequate and does well to compete with family hatchback rivals and is on par with the Golf, offering a capacity of 375litres. The split-folding rear seats split into a 60:40 configuration and lie almost flat when folded down, increasing boot space to 1,320litres. There's also a few handy storage spaces dotted around the cabin including a couple of cupholders and trays for your phone or loose change in the centre console.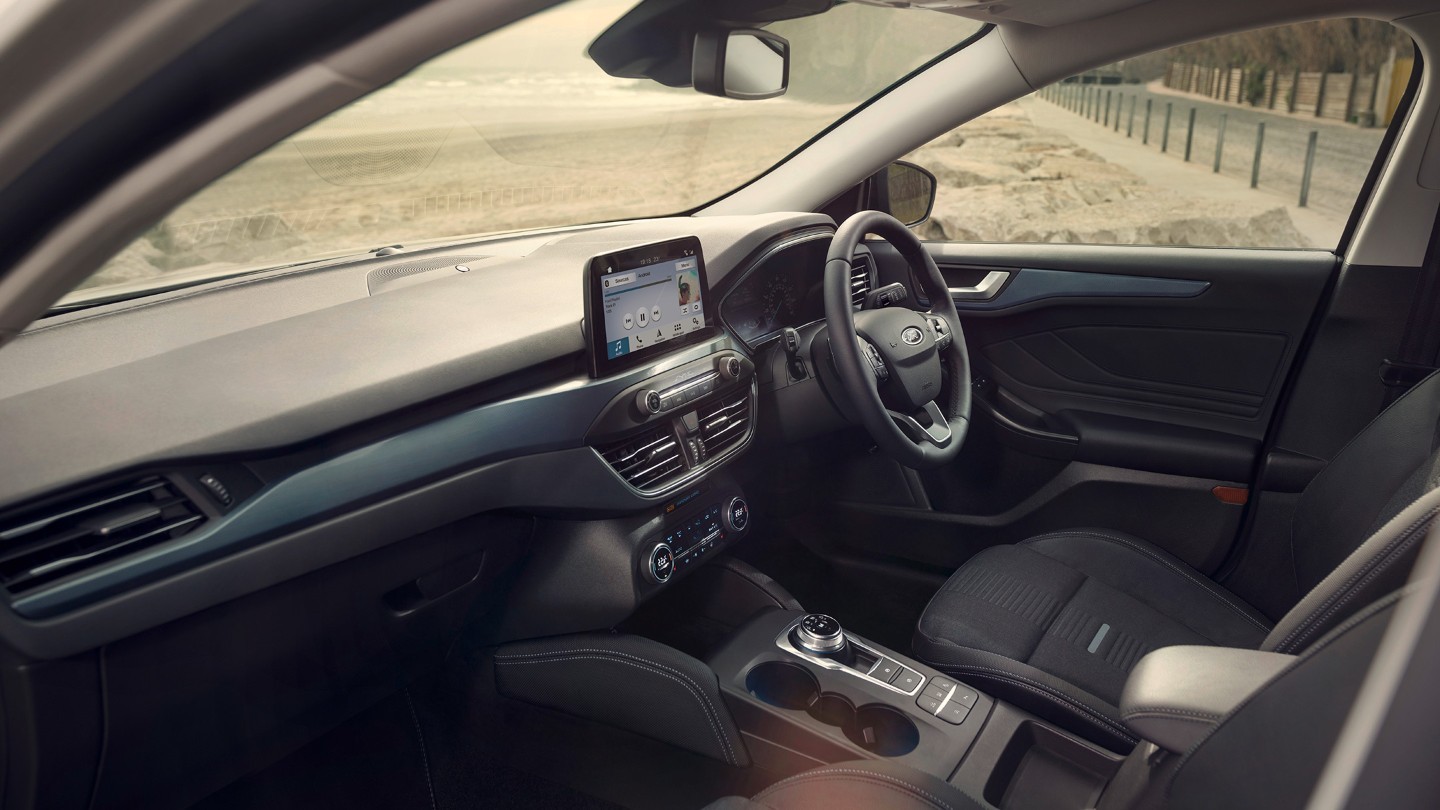 Should you buy one? The fourth generation Ford Focus has seen some huge upgrades compared to previous models and is perhaps the best to date with its improved interior, practicality and handling as well as a range of tech that most buyers will want. While other rivals may offer superior interior quality, space and more intuitive tech, the latest Focus is a good all-rounder and should not be discounted by those looking for a great little family car.
Pros 'n' Cons
• Price √
• Handling √
• Practical √
• Noise √
• Slow to respond infotainment system X
Fast Facts
(Ford Focus ST-Line X)
• Price: £24,645
• Max speed: 123mph
• 0-62mph: 10.3seconds
• Range: 46.3mph
• Engine layout: 1.0L Ford EcoBoost petrol
• Max. power: 118bhp
• CO2: 114g/km
Interested in buying a used Ford Focus? Click here.
Other Ford Reviews:
For more CarCliq Reviews, click here.