Ford's new Fiesta ST is a fearless hot hatch with a 200ps slab of power under the bonnet. It also wears a self-assured body kit and has a flashy interior with a sporty, flat-bottomed steering wheel.
The £22,895 Fiesta ST-3 gets handsome 18-inch alloy wheels, which are enhanced further with bright red brake callipers. The hatchback also comes loaded up with equipment including, heated leather Recaro seats and a heated steering wheel. There is also a lot of technology shoehorned into the Fiesta ST, which makes the car a pleasure to live with. Tech includes rear parking sensors, keyless entry and automatic air conditioning.
As you would anticipate, the regular Fiesta's body has been jazzed up for the ST, and it is now 14 per cent stiffer due to some additional bracing on the Ford's underside. At the rear, there is a new stiff twist-beam torsion bar, and there is a completely new steering rack at the front. These are the most radical parts of their type ever installed into an on-road performance Ford. The steering is also 14 per cent quicker than the withdrawing Fiesta ST200.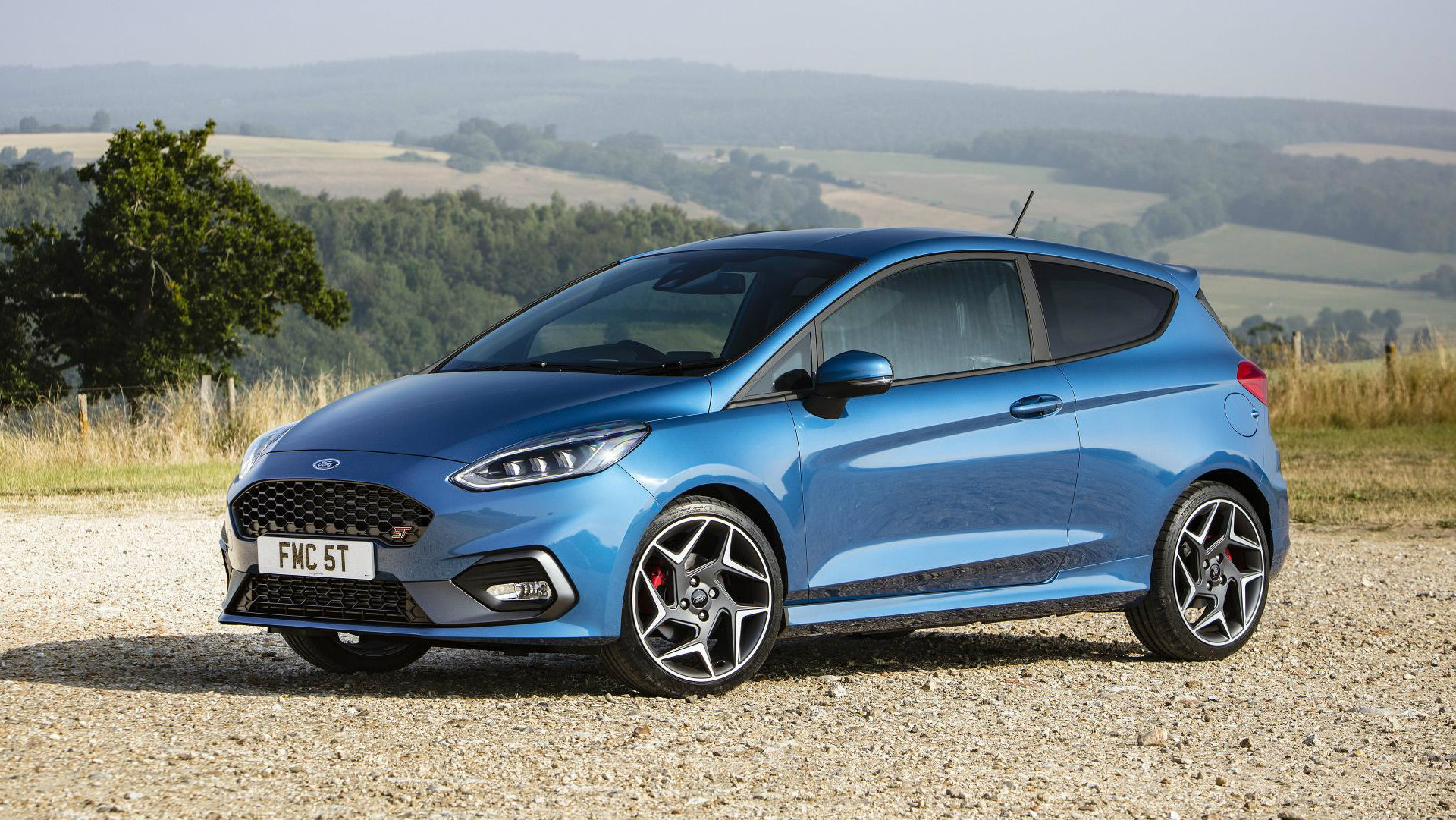 What's more, Ford Performance has added Ride Control 1 valving. What is that, you ask? Well, basically, the damping hardens when you are hammering into corners and relaxes off when you are taking it easy cruising along. Torque vectoring springs have also been built-in to give a snappier turn-in; it is all ingenious stuff for a sub-£23,000 hot-hatch.
But that is not all when it comes to the Fiesta ST's technology and engineering. For the first time, a limited slip differential has been incorporated into the Ford, too; it's part of the £850 Performance Package which also comprises 'Performance Shift Lights' and launch control.
The ST's seats are very supportive, the view all-around is first-rate, and the eight-inch touchscreen is stress-free to use.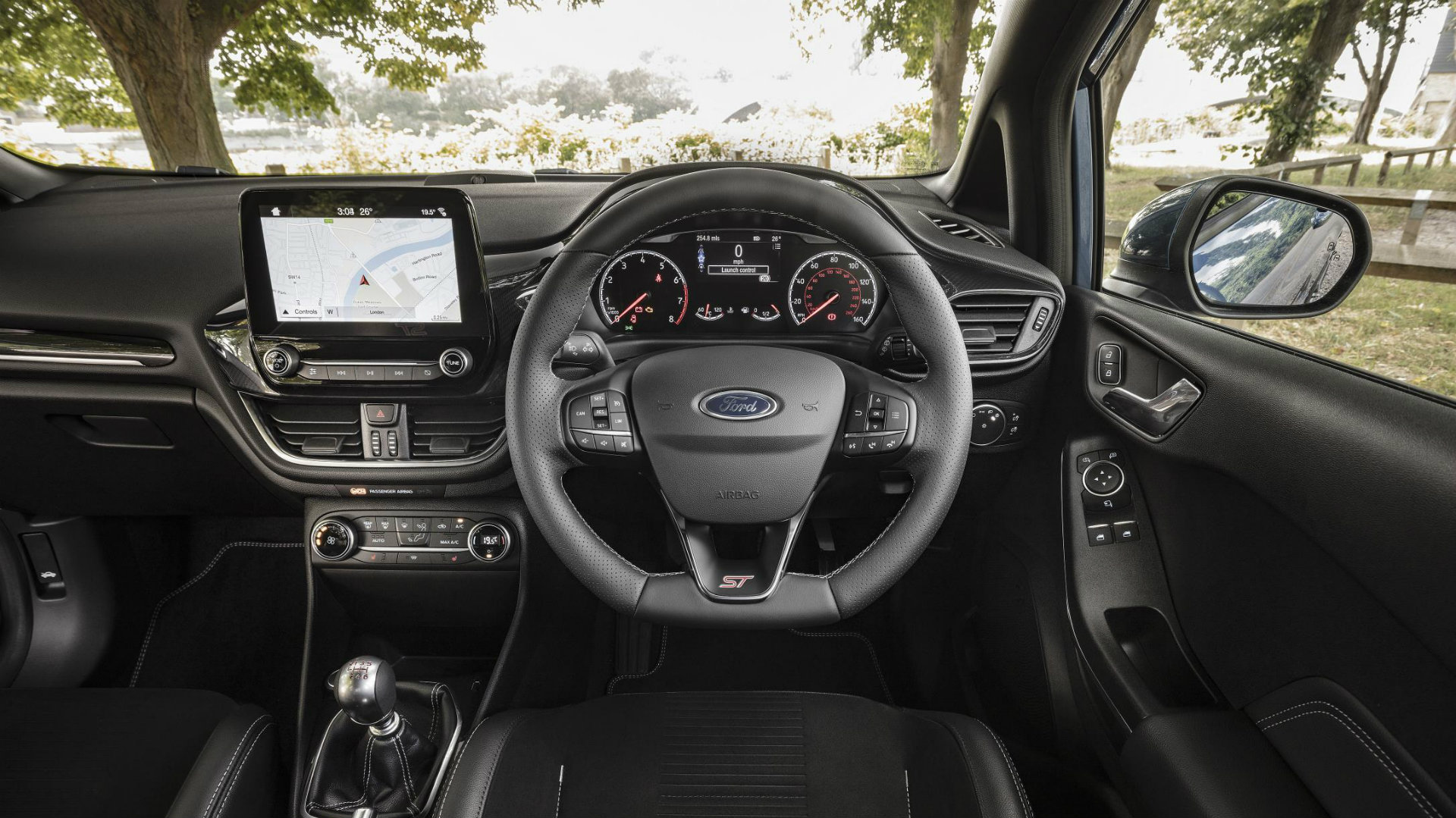 The Fiesta ST-3 three-door variant, in the spotlight here, has enough room in the back for two adults – meaning there is a lot of space for younger children. The load area is also bigger compared with the retreating Fiesta model. At 292-litres it will just about swallow a week's worth of shopping.
The Blue Oval's fierce little beast fires from 0-62mph in a mere 6.5 seconds and has a maximum speed of 144mph. Furthermore, selectable motoring modes permit you to elect relaxed or sportier settings for the steering, exhaust and, of course, the accelerator. The modes - Normal, Sport and Track – each build up weight, noise and response the higher up the selection you go. In Track setting the traction control is turned off and the stability control is switched to 'wide-slip mode'.
Certainly, the fresh Ford Fiesta ST is a talented hot-hatch that represents top value performance for weekend amusement. Only its overly sensitive steering and shuddering suspension might put you off using it as your daily ride.
Pros 'n' Cons
Speed √
Driving pleasure √
Looks √
Boot space √
Sensitive steering X
Harsh suspension X
Fast Facts (2018 Ford Fiesta ST-3 – as tested by Tim Barnes-Clay)
Max speed: 144 mph
0-62 mph: 6.5 seconds
Combined mpg: 47.1
Engine layout: 1,497cc 3-cylinder petrol turbo
Max. power (PS): 200
CO2: 136 g/km
Price: £22,895
Written by motoring journalist, Tim Barnes-Clay.
For more CarCliq reviews click here
Looking for a used Ford Fiesta? Click here