Electric cars
are definitely the automotive industry's latest trend right now, with manufacturers from
Citroën
to
BMW
and
Tesla
getting in on the action – however, it's fair to say, most of us didn't expect a vacuum vendor to make their mark.
As news came out back in 2017 that James Dyson announced their launch into electric car market, he's now announced on the 19th February – they are on course to not only launch their first ever electric car within the next two years, but they are expanding their ambitions further by introducing two new models to join the line-up.

Dyson told employees that he is committed to reducing air pollution and will invest £2bn in the company's electric vehicle project, bearing in mind he had planned to launch an electric car since establishing the firm in 1987 and that a team of engineers had been developing its first EV for the past two years.

Dyson had admitted that "A car's a huge challenge," but added that the firm has been "investing heavily in new battery technology, solid-state battery technology."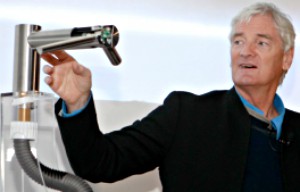 Company insiders have told us that the vacuum-cleaner legend is planning a range of three vehicles – the first is said to be used to establish a customer base and lay the groundwork for a supply line. Also, they will not be using solid-state batteries, which offer considerably more range and charge faster than lithium-ion batteries. However, solid-state technology will feature on the other two, high-volume, EVs.
Last year, Dyson mentioned that the new car would look "quite different" to any other EV on the market – it's worth mentioning how the company is known for its work with lightweight materials like plastics – which supercars have used in the past. So to put the pieces together – a lighter chassis would also mean better battery efficiency.
The firm is still yet to announce an official release date for its first electric car, but Dyson has 400 people working to get the vehicle ready by 2021. This is well ahead of other manufacturers who have are currently working with solid-state technology, as only Toyota has spoken out and said they have provided a timeline for the release of a car with a solid-state battery, in 2025.
For more CarCliq News, click here.