Competition in the compact SUV market is rife, with every brand wanting a piece of the action and Mazda are certainly no different. Taking on rivals like the Peugeot 3008, Skoda Karoq, Toyota C-HR and Volkswagen T-Roc, the Mazda CX-30 sits between the CX-3 and CX-5 as the latest compact crossover to join the line-up. The CX-30 has a lot to offer in terms of style and comfort, it's decent to drive and comes with plenty of trim choices and standard equipment, making this one model that's sure to attract plenty of interest for those in the market for a compact SUV.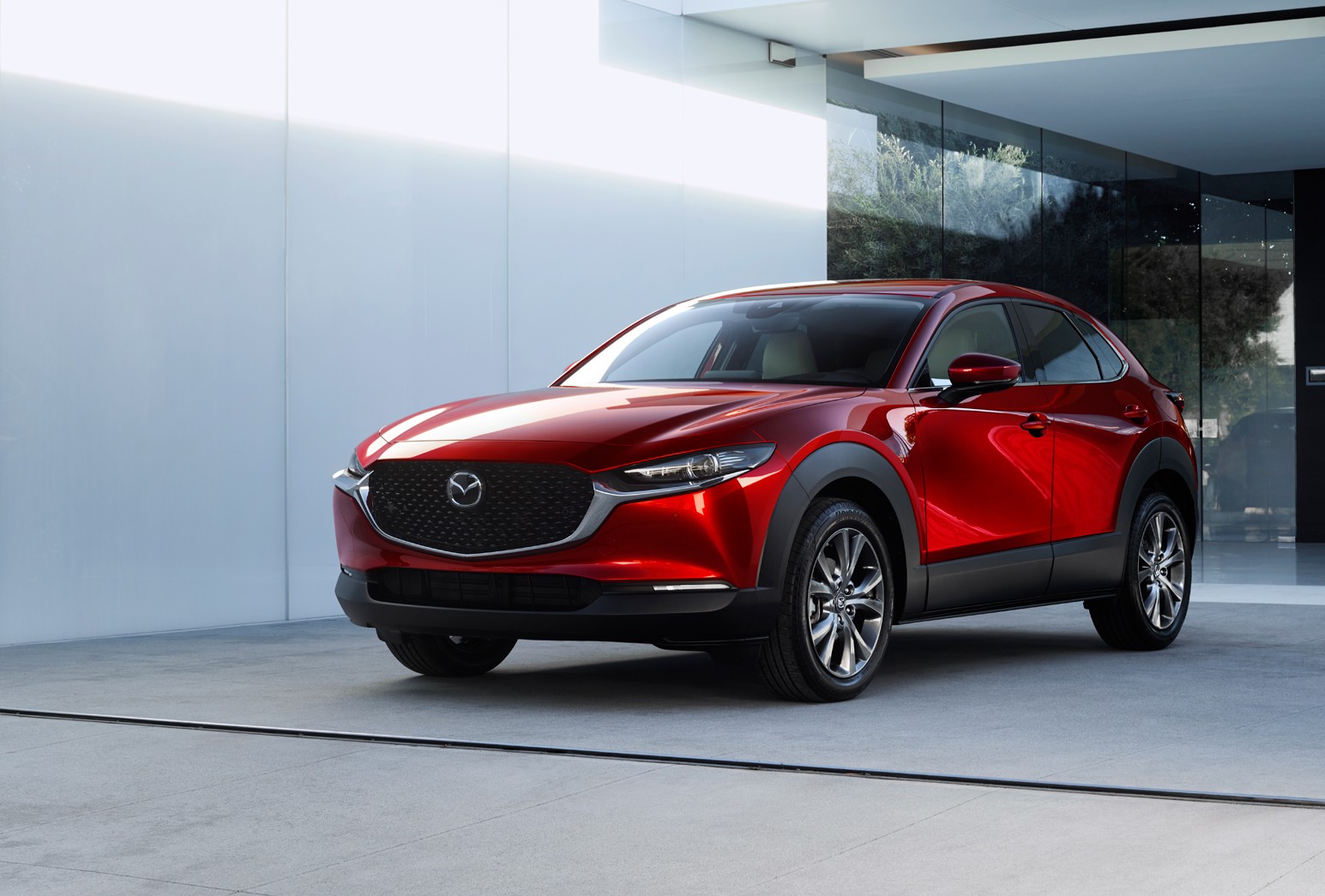 When it comes to engine choices the CX-30 is rather limited, only offering two, 2.0litre petrol engines; the lack of diesel engine options will perhaps put some buyers off. The first is the entry-level 120bhp SkyActiv-G petrol engine that has a top speed of 116mph and a 0-62mph time of 10.6 seconds. The other is the more powerful SkyActiv-X petrol engine with 178bhp, a top speed of 127mph and an acceleration time of 8.5 seconds from 0-62mph. Both engines come with a six-speed manual gearbox as standard or there's the option of a six-speed automatic and feature Mazda's mild-hybrid technology that improves efficiency by recycling energy as the vehicle slows, using it to assist the engine under acceleration. The SkyActiv-X engine features more clever technology that gives it the smooth performance of a petrol engine but is more economical, producing less CO2 emissions by allowing it to work like a diesel engine.
Stylistically, the CX-30 looks very much like its Mazda 3 sibling only taller, but looks aren't the only thing they share, with the CX-30 sitting on the same platform as the Mazda 3. The CX-30's steering feels well balanced and precise, gliding through twists and turns with ease and minimal body roll. While Mazda's G-Vectoring technology uses the brakes to help maintain grip and cornering speeds. Ride quality is good but on scarred roads the CX-30 tends to fidget more, with potholes sending thuds reverberating through the cabin. The CX-30 is fitted with a rather firm suspension, which is noticeable around town where it occasionally sends bumps through the car but at speed becomes smoother, making the Mazda a competent motorway cruiser. While the Skoda Karoq is better at cushioning you from bumps, avoiding the larger alloy wheels on the CX-30 will take the edge off some of the bumpiness. As for noise, the Mazda's 2.0-litre, four-cylinder engines are smoother and quieter than those offered in the Karoq and SEAT Ateca. Wind and road noise are also kept to a minimum, although you do hear the odd thud from the rear suspension over bumps but generally noise is well contained.
The CX-30's interior is a very nice place to be, it's refined yet uncluttered and comes with a variety of specs and trims, rivalling even some of the more premium alternatives like the Mercedes-Benz GLA and Audi Q2. The CX-30 is available in 5 different trims, the SE-L, SE-L Lux, Sport Lux, GT Sport and GT Sport Tech. Entry-level models will see cloth upholstery, air-conditioning, rear parking sensors and keyless start, as well as a head-up display and adaptive cruise control fitted as standard. While the top range models will gain black leather upholstery and an upgraded 12-speaker Bose sound system, as well as a 360-degree view monitor for ease of manoeuvring and some extra safety and driver assistance systems. The 8.8inch infotainment display system also comes with an impressive array of features, with all models getting a DAB radio, Bluetooth, sat-nav and smartphone mirroring via Apple CarPlay and Android Auto.
While interior styling is perhaps superior to other SUV rivals that have similar price points, the CX-30 does struggle when it comes to space. Front visibility is good and while you do sit slightly higher than in a hatchback, Ateca and Nissan Qashqai rivals do sit even higher, offering better driving positions. However, space in the rear is less impressive due to the sloping roofline and sporty styling of the CX-30. Six footers sitting in the back will find legroom rather tight, even more so when sitting behind a driver of a similar stature. Boot space is adequate, holding up to 430 litres which is slightly more than what can be found in the T-Roc but is nowhere near the capacity available in the Audi Q3.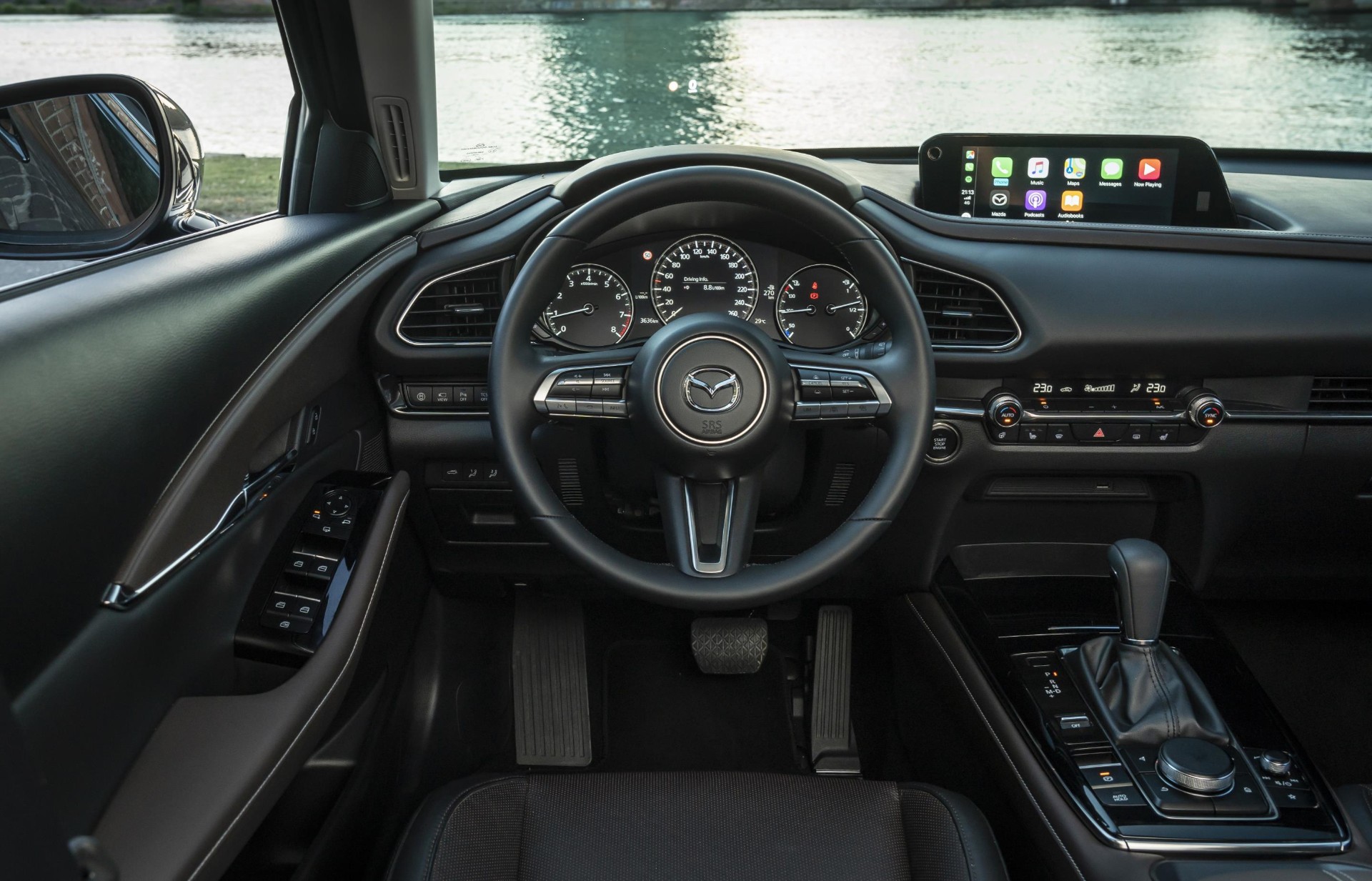 Should you buy one? In an increasingly competitive sector, the CX-30 does well to stand out from the crowd, it's stylish, handles well and has an interior that rivals even some of the best in the range. The Mazda CX-30 is well worth considering for those that after a plush-feeling SUV without the premium price tag and don't need vast amounts of interior space.
Pros 'n' Cons
• Infotainment System √
• Handling √
• Styling √
• Space X
• Diesel Engine Option X
Fast Facts
(Mazda CX-30 SE-L Lux )
• Price: £ £25,675
• Max speed: 127mph
• 0-62mph: 8.5 seconds
• Range: 47.9mpg
• Engine layout: 2.0 litre SkyActiv-X petrol engine
• Max. power: 178bhp
• CO2: 105g/km
Interested in buying a used Mazda? Click here.
Other Mazda Reviews:
For more CarCliq Reviews, click here.