Having the right
car
seat ready for your newborn is extremely important, as this will ensure they are travelling home safely. It's a good idea to practice fitting the seat beforehand too.
Buying a car seat
Before you make any sort of purchase, you need to try a couple in your car before making a final decision. Most retailers are willing to help you with this and staff should be trained in fitting car seats – so don't worry if this is your first time!
Also, check whether your car has Isofixconnectors built into it – these are designed to make the fitting of baby and child car seats simpler, most modern family cars have these included. They can be found hidden in the cracks between the padding of the car seats.
It's also handy to research some car seat manufacturer's online guides, these show which cars their seats will fit in. Keep in mind, if your baby or child is likely to be travelling regularly in another car (like other family members), check the car seat fits their car too.
Always choose a car seat that fits according to your child's current height and weight.
Never buy a second-hand car seat; this could have been damaged in an accident, causing parts to be missing or no instructions. Therefore, this would not be considered the safest or most user-friendly model. We recommend you only accept a car seat from friends or family if you know its history, or that it's not old and it comes with instructions.
Think about your car seats uses. If you know you'll be doing a lot of lifting your baby in and out of the car a lot, we recommend you buy a lightweight seat with a base that stays in the car.
Make sure your car seat is EU approved – you can check this by looking for the "E" mark label on the seat.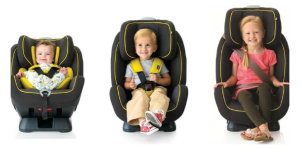 What size car seat?
Car seat sizes are categorised into three groups according to the baby/child's age and weight.
Group 0+ - rear-facing car seats suitable for babies aged up to about 15 months on who weigh up to 13kg (29lb); some can be clipped on to a pushchair frame and are known as travel systems
Group 1 – forward-facing seats suitable for children who weigh 9-18kg (20-40lb) or who are aged from 9 months to 4.5 years
Group 2/3 – high-backed booster seats suitable for children who weigh 15-36kg (33lb – 5st 9lb) or are aged from about 3 to 12 years.
You're also able to buy combination seats that entwine over these groups, such as group 0+/1 seats – these are suitable from birth until your child weighs about 18kg (40lb) or is aged around 4 and half years. The benefit of this type of car seat is that is can be more economical, however, they may not offer the same level of protection.
Using a baby or child car seat
Always put your baby in their car seat from the pavement side of your car.
It's important to make sure your baby is securely strapped in according to the manufacturer's instructions.
Use a rear-facing car seat for as long as your baby fits into it – these offer better protection in the event of a car accident.
We hope you're now fully-informed of the importance of choosing the right car seat for your baby or child. We want you to feel confident and happy through this exciting stage of your life.
For more CarCliq guides
click here